WPC 2013 is just around the corner, and if you are looking for an opportunity to grow your business and networking you must consider attending the event in Texas from July 7-11. With all new sessions and entertainment lineup Microsoft US Partner Team is looking for you to make connections, share experiences and get some new and innovative ideas to grow your business.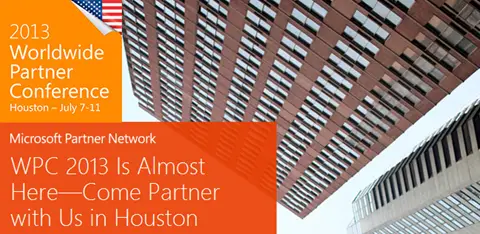 Visionary speakers like Steve Ballmer and Kevin Turner will speak about different strategies and insights to grow your business in the event. More than 1600 attendees from around 160 countries will partner this event and thus is considered the best place to get new ideas for building your business.
WPC 2013 will also showcase the topics like Windows 8.1 enhancements, IT control, networking and mobility in deep while providing the roadmap of next year. This event is the best way for Microsoft partners to make new connections and to grow their business worldwide.
Registrations are open from Sunday to Thursday. Secure your place at WPC 2013 and join the modern era of computing. You can get the all-access conference pass for US$ 1,995. If you have a group of 4 or more attendees, you can avail a special discount for the event. Microsoft offers a US$200 refund off the registration fee of 4th through the 10th registrant.
Microsoft US Channel Chief Jenni Flinders invites you to join WPC 2013 as a US Partner and learn from leading Microsoft US executives and sales & marketing experts from across the world.
The business activities for US partners include:
30 US-focused sessions in the US Subsidiary track
The US Diversity & Inclusion event at The Grove Restaurant on Monday, July 8
The US Celebration at the Houston Museum of Natural Science on Tuesday, July 9
The US Lounge, located in The Commons expo hall, and open throughout the conference
Central Region, East Region, and West Region keynotes, as well as an SMB-specific keynote, on Thursday, July 11
You can join WPC 2013 here.
The video will give you more details about the event.
http://youtu.be/-2WVhC8d2c8