After Azure IoT Suite, a platform-as-a-service (PaaS) solution Microsoft announced Microsoft IoT Central earlier this year. It was a Software-as-a-Service Solution (SaaS Solution) in the cloud that helps customers to build, use. and maintain their hardware by connecting it to the Smart Cloud via the Internet.
Microsoft IoT Central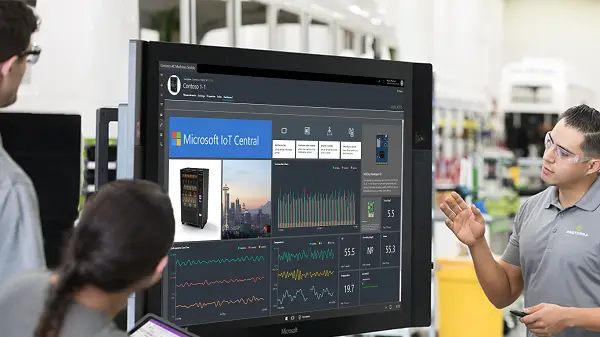 Microsoft IoT Central helps companies in building feature-rich, functional IoT apps and solutions in a matter of hours. This leads to various advantages. Now the company doesn't have to hire new engineers to build their IoT cloud solutions.
The team also announced that they are working on migration of the existing applications and data to Microsoft IoT Central to provide richer insights, integrate business workflows and take more effective actions in a more convenient way. And this will be released very soon.
Also, with features such as role-based access and integration with Azure Active Directory permissions, the new Microsoft IoT Central is also a secure solution.
Some of the customers already using this solution commented this :
"Small-scale IoT use cases are rare, even though they can have profound social impact. Why? Because each use case has unique needs that in turn require special sensor configurations and secure provisioning to the cloud before the solution can even be turned on. Arrow has simplified this process by bringing together Microsoft's IoT Central platform and Libelium's Plug & Sense IoT Toolkits, which help small, medium, and even large businesses get their IoT projects up and running sooner. Microsoft's IoT Central solution helped us pilot in weeks, at minimal cost, a public school environmental monitoring solution that would have taken a year to develop from scratch. School and government officials can now monitor and improve the safety of public spaces without the cost and duration of typical IoT projects." – Jeff Reed, PhD, VP Microsoft Global Alliance at Arrow Electronics
"Mesh Systems is passionate about the work Microsoft is doing with the release of Microsoft IoT Central. We recognize how Microsoft IoT Central accelerates projects that need entry-level simplicity while also be extendable to meet more complex requirements. We value this level of SaaS offering from Microsoft because it allows us to focus on identifying and iterating on the application business transformation, which is critical across the IoT market." – Uri Kluk, CTO, Mesh Systems
"With Microsoft IoT Central and partner VISEO, we created and deployed IoT solutions quickly, securely, and at scale—with the reach and resources of the global Azure cloud platform. The solution we implemented enables us to collect telemetry data on thousands of our devices. We are now able to do predictive maintenance and ensure our firmware is always up to date—critical advantages in the health field. With this data, we are better able to serve our market and adapt our service to the needs of our customers." – Philippe Angotta, Director of Customer Relations, LPG
"Patterson Companies believes there is an opportunity to realize significant improvement in dental device fix/repair service-level outcomes for its customers via an IoT Remote Monitoring & Diagnostics solution. The OEMs that manufacture dental devices are actively implementing and enhancing their IoT capabilities to provide ongoing performance data from devices connected at the dental office. Microsoft IoT Central provides a highly configurable and intuitive solution to define the criteria needed to monitor and diagnose any variety of connected devices. This in turn equips Patterson service technicians with current and past performance data, allowing them to transition from a reactive stance to one that is proactive and results in higher levels of customer satisfaction." –Nate Hill, Principal Architect, Patterson Dental
Azure IoT Hub
The team also announced the availability of the Azure IoT Hub Device Provisioning Service. It enables zero-touch device provisioning and configuration of millions of device to Azure IoT Hub in a secure and scalable manner.
You can take a deeper dive at Microsoft IoT Central website. Also, you can read their dedicated and detailed blog post here.