In today's world, cars are not just a medium that takes you from one place to another. It's a whole new digital world in itself. The automotive industry has gone a great digital transformation in recent years. It is now connected to the internet and offers a number of services with the help of cloud. Microsoft technologies too are playing a major role in the latest technological advanced cars. In addition to the technology, Microsoft is now offering IP licensing for connected cars. In the IP licensing for connected cars program, Toyota has become the first partner in the launch.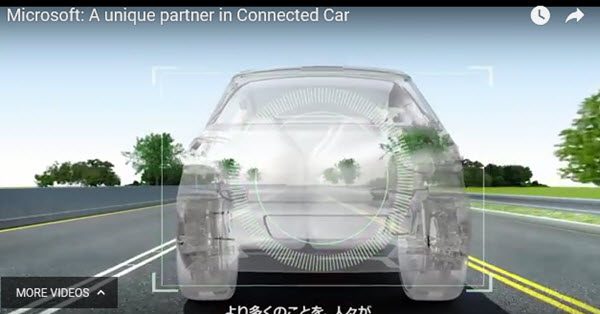 IP licensing for connected cars
Erich Andersen, Corporate Vice President and Chief IP Counsel of Microsoft's Intellectual Property Group, mentions about the IP licensing for connected cars in his blog post;
"As one of the leading auto companies in the world with a deep heritage of innovation and ground-breaking research and development, Toyota is already a valued partner of Microsoft through the Toyota Connected program and an early adopter of Azure IP Advantage. We look forward to deepening this partnership with our IP in connected cars."
The IP licensing for connected cars is a major step from Microsoft. It will help automobile companies to take more advantage of Microsoft's technologies. Connected cars is an outcome of Bill Gates' dream of more than 20 years. This was about making the "information at your fingertips". In fact, this only vision motivated Microsoft to innovate various technologies that have also made Microsoft a leader. Microsoft is the first one to transform cars into offices on wheels. Connected cars will be the future of the automotive industry.
Microsoft and Connected cars
IP licensing for Connected cars will enable the automobile industry to embed following technologies in their cars. Some of these technologies include Microsoft's the most cutting-edge advances in AI, voice recognition, and gesture recognition. The operating system has been scaled down to the first hand-held OS, to hyper-scaling from IoT devices, to cloud solutions. Not only this, Microsoft's industry-leading exFAT file storage and transfer solution connects devices with portable media (through SD cards and other USB-enabled storage devices).
Along with this, Microsoft's IP licensing for connected cars will offer excellent connectivity. Microsoft is a pioneer in WiFi and mobile connectivity. The sensor innovations are the foundation of intelligent data collection and the future of augmented reality. One of the most important technologies that comes with IP for connected cars is the gesture computing.  Microsoft is building on innovations in its motion-sensing Kinect systems to create engaging new technologies that are the future of augmented reality and virtual reality. Apart from this, automobile manufacturers can use Microsoft's other technologies such as Graphical User Interface, Voice recognition, Multi-Touch, Security and AI.
To know more about the IP licensing read the Microsoft blogs.