The Family Feature first came in Windows 7, which allowed parents to control how long their kids can use the computer, app usage, and what they browse on the computer. As the feature evolved, Windows 10 offered even better Parental control. Everything could be managed online. In Windows 7, it is called Windows Live Family Safety. In Windows 10, it is called as Family Safety  Now that Windows 7 has reached the end of support, Microsoft is retiring the online feature of Windows 7 Parental Controls– as well as for Windows 8.1 and Windows 8.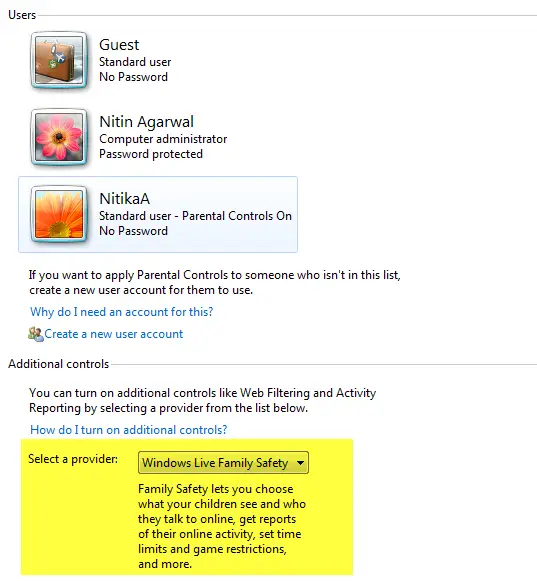 Online management of Parental Controls to be retired
There is a vast difference between Windows Live Family Safety and Family Safety. On Windows 7, one had to install additional software, and most of the features worked offline. While on Windows 10, everything should be managed online. So while you can still use the offline features, the optional online services are going away.
You will no longer receive emails of your kids' device and internet usage from Windows 7 or Windows 8.1. Nor will you be able to see usage and set limits at account.microsoft.com for these older devices. You will be able to do it only from the computer through the Windows Live Family Safety features.
Recommendation for Windows 7 users
Microsoft is recommending users to uninstall the Windows Live Family Safety app or any app related to Windows Live Essentials. You can do this from Control Panel > Program Features or Add/Remove Programs. Having done that you will be left only with User Accounts & Family Safety control panel to set limits and view usage.
Both Windows Live Essentials support and Windows 7 reached the end of support in January 2020. There will be no security updates, and hence make sure to use these features on your own risk.
Recommendation for Windows 8.1
If you are using this on Windows 8.1, then you need to follow the steps:
Change each user from "Child" to "Standard User." It will turn off online sync for these accounts.
Then you can change those accounts back to Child, connect with a Microsoft account, and use the Family Safety feature to manage their browsing activity, computer usage, and more.
Microsoft has already sent out an email to all the users who used Windows Live Family Safety. If you don't use parental control anymore, there is nothing to worry about. However, if you see a link to the Family Safety website, then you need to disconnect your device from the online parental controls service.
Windows 10 Family Safety offers a lot of features including online screen time extensions, safer default settings for younger kids, monitoring of change in web browsing habits, purchase & spending from Microsoft Store and more if you are serious about your kid's browsing habits, it is better to upgrade to Windows 10.