Microsoft has announced its plan to shut down Docs.com by December 15, 2017. The file sharing service Docs.com was initially was a collaboration between Microsoft and Facebook wherein the Facebook users were allowed to create, edit and share the Office documents. Microsoft relaunched the service in 2015 with some added features and support.
Microsoft believes that services like SlideShare and OneDrive are serving better than Docs.com and that's the reason behind the closure.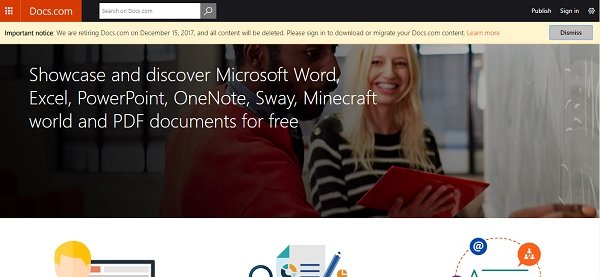 Docs.com to shut down
Microsoft says,
"Following Microsoft's acquisition of LinkedIn, SlideShare has joined the Microsoft family, and represents the ideal platform for publishing your Word, PowerPoint, and PDF content with its audience of 70 million professionals, and vast content library. For custom sharing, OneDrive offers additional tools, permission settings, and security to help share and protect your data and content".
Now when the company has finally decided to shut down the service, they are advising the users to download or migrate their existing documents before December 15.
Docs.com will be closed gradually and Microsoft has added a detailed schedule of closure so as to help users saving their existing documents.
Users won't be able to create new accounts on Docs.com from June 9. However, the existing users will still be able to access their uploaded documents. By June 19, Docs.com will let the users migrate all their documents to OneDrive, but only if they have a Work or School account. Publishing and editing the content on Docs.com will not be supported after August 1 but users will be able to download and migrate their content till December 14, 2017. After December 15, 2017, the entire content on Docs.com will officially be discontinued. The Docs.com site and all of its content will be officially discontinued. The site will no longer be accessible after this date.
How to move content from Docs.com
If you are using your Microsoft account of Facebook account you can back up all your content to OneDrive. The files which are not compatible with OneDrive will be available for manual downloading. Just log in to your OneDrive account and follow the prompts to migrate your content.
Office 365 Users with OneDrive for Business using their Work or School account with Docs.com can automatically migrate their content. You need to login to your Docs.com account and enable the auto-migration prompt. However, this option will be available from June 19, 2017.
Office 365 Users without OneDrive for Business can download and save their files on some other storage platforms or their devices.
After auto-migration, all your metadata will be saved and stored in an Excel file which can again be backed up in your OneDrive account. All your About and Journal pages will be saved on your My Sways Page on Sway.com.
If you have already linked Docs.com to other websites, the compatible content will automatically be redirected to OneDrive for Business or OneDrive and you can access it on other web pages. The automatic redirection will be stopped on May 15, 2017, so the users are advised to update links on other websites.
Remember that the migration will be interrupted if you exceed the available storage limit on OneDrive. To resume the migration process, you need to free up some space on OneDrive or purchase some additional space.
Users who did not opt for auto-migration or not having the OneDrive for Business/OneDrive account can manually download the content on their devices or save it on some other storage services before December 15 this year. Please note that you can't backup any of your Docs.com content on SlideShare.
Docs.com users may have other questions like:
What about content that I have already linked from Docs.com to other Web sites?
What about OneNote notebooks that I distribute via Docs.com?
What if my Docs.com content exceeds my OneDrive storage limit?
What about Docs.com content not backed up to OneDrive or OneDrive for Business?
For more information on this subject, visit Office.com.