Microsoft Language Portal today is updated with UI translation of all 111 languages and the official Windows 10 Terminology. Developers can now develop multilingual apps for Windows 10 by downloading and using the thousands of translations available in the portal. Windows 10 was made available in 111 languages earlier this month.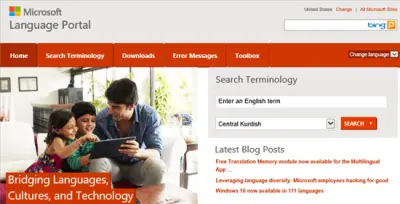 The updated terminology includes the translation of all new features added in Windows 10 which include Windows Hello, Apps Corner, Virtual desktop, and more. Many other standard phrasings are also added in the update to help developers creating multilingual applications and content.
Other applications included in the update are-
Windows 10
Windows 10 Mobile
Office 2016
Office for Mac 2016
Universal Store 10
Universal Apps 10
OneDrive + Outlook.com
Exchange Client and Server 2016
Microsoft Intune
Latest Xbox One strings
Various Azure components
Various System Center components
The Microsoft Local Language Program helps users building their IT skills and enhance their education outcomes. The translations to Windows 10 terminology helps users to access the technology in a familiar language.
The language portal helps you with-
Microsoft Style Guides– Users can learn the style conventions for specific languages here. The style guides also include the rules that define a particular language.  For example, General localization guidelines, information on language style and usage in technical publications, and information on market-specific data formats.
Microsoft Terminology Collection- With the lately updated terminology users can now develop localized versions of Microsoft applications in their own language. Terminology here is provided in .tbx format, an industry standard for terminology exchange.
UI Translations- The translations of the entire user interface text are available for free download only subscribers of Microsoft TechNet or MSDN. Each language download is a .zip file containing multiple individual products.
Check out the Microsoft Language Portal to know more.