After more than 10 years of hard efforts Microsoft announced its plans to release a Skype beta app that will enable people speaking different languages to talk comfortably through real time translation. On Tuesday, Microsoft CEO Satya Nadella, at the inaugural Code Conference in Rancho Palos Verdes, California, has discussed about how they are planning to remove the communication barriers by introducing a new real time language translation tool for Skype.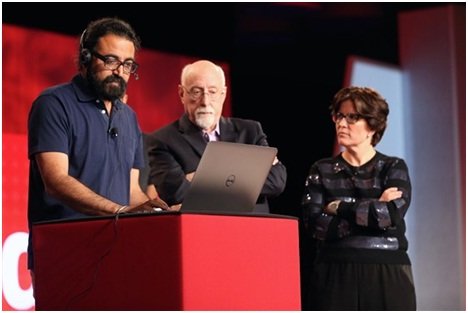 Gurdeep Pall, corporate vice president of Skype and Lync at Microsoft, demonstrated the tool at the inaugural Code Conference in Rancho Palos Verdes, California by communicating in English with a German speaking Microsoft employee, Diana Heinrichs. The demo showed audio translation from English to German and vice versa happen in real time by combining Skype voice and IM technologies with Microsoft Translator, and neural network-based speech recognition.
In a blog post Pall said,
 "It is early days for this technology, but the Star Trek vision for a Universal Translator isn't a galaxy away, and its potential is every bit as exciting as those Star Trek examples".
As told by Microsoft that Skype Translator will be available as a Windows 8 beta app by the end of the year 2014. Over a decade, Microsoft was investing in speech recognition, automatic translation and machine learning technologies and finally, because of these earlier efforts they finally came out with Skype Translator. It was considered almost impossible task to deliver the tool that is capable of fitting the voice and utterance of so many different people across the globe and the nuances of different language but today we have Skype Translator that can now perform a real time translation.
So now even those people who are not having their account on Skype can have one and start communicating with their friends in different part of the world. Even though it may seem to be that we are quite far off from the dream of Star Trek like Universal Translator, Microsoft has certainly put their step in a right direction by introducing Skype Translator.