Do you use Microsoft Launcher on your Android phone? If yes, we have some important news for you. Microsoft Launcher has been updated with certain new features, Feed design, and Landscape mode, among other things.
We don't intend to exaggerate but Microsoft Launcher is one of the best things ever happened to Android users. Because it's simple, offers less clutter, and very importantly, it's perhaps the best alternative to default Android launcher.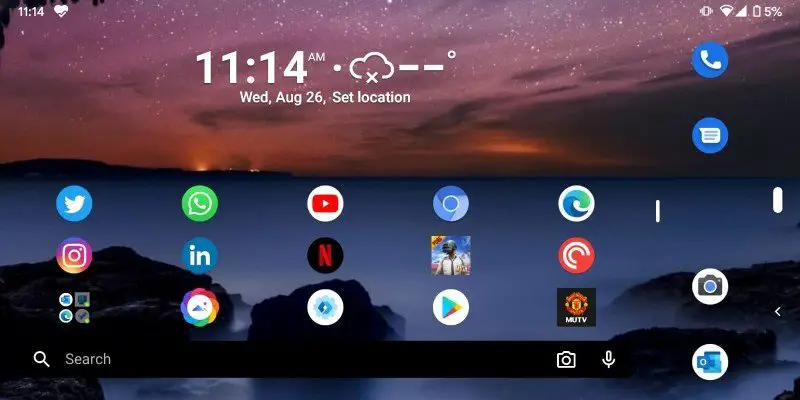 Download Microsoft Launcher v6 update
Once you start using Microsoft Launcher on your Android, you realize how difficult it is to replace it with another launcher. And believe it or not, some of us here at The Windows Club use Microsoft Launcher on their Google Pixel!
Whether or not one should replace the default Google Pixel launcher with Microsoft launcher is a debate for some other time. For now, let's see everything that's new with Microsoft Launcher v6.
The best part, Microsoft continues to push updates in a timely manner, ensuring that the launcher itself remains up-to-date and bug-free.
Support landscape mode
Well, Microsoft is neither the first nor only Launcher to support Landscape Mode on Android smartphones. But at the end of the day, it's a welcome change, isn't it?
You are allowed to hold your phone in landscape orientations without messing up the user experience. Now that Microsoft Launcher supports Landscape Mode, you can use your phone with Bluetooth keyboards for faster input.
Apart from Landscape Mode, here's everything that's new with the Microsoft Launcher v6 update at glance:
• Support landscape mode
• Updated Microsoft Feed design
• Beautiful Wallpapers
• Improved performance
Fix in this build:
• Add up to 3 rows in Dock
• Organize your App Drawer with folders
• Double tap to lock screen
• Improved app search
• Fixed bugs and crashes
Updated Microsoft feed design
The updated Microsoft feed design now looks much cleaner and organized. The cards are spaced and organized evenly and carry a blurred background. Microsoft Feed is accessible at the far left home screen panel.
Last but not least, the v6 update also brings some new wallpapers in the Bing and Microsoft folders. The updated Microsoft Launcher can be downloaded and installed via Google Play Store.
Meanwhile, here's how to use your Android phone with Windows 10