For those of you who are planning to develop and launch Windows 8 apps, you may be delighted to know that Microsoft has launched a website. This website will offer guidance and help you develop and launch your Windows 8 App in 30 days.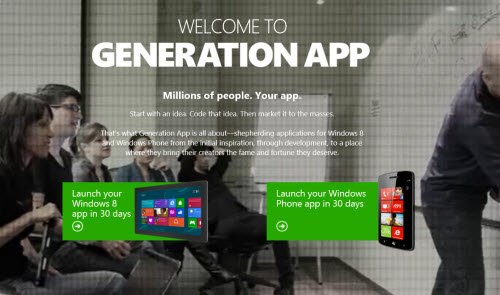 The website promises to give you insider tips and tricks on the Windows 8 application development platform including personal access to a Windows 8 architect. It gets even better! You will get exclusive one-on-one Windows 8 or Modern UI style design consultation and an opportunity to get expert help from a Microsoft Services Engineer at an App Excellence Lab.
It is widely believed that Windows 8 offers the largest opportunity for today's generation of app developers.
If you are planning to develop Windows 8 apps…or Windows Phone apps for that matter, you definitely want to register for free there.
The offer is on a first come first served basis and only  250 design consultations per month and 500 technical review consultations per month, will be offered. If you are a resident of US, you might want to hurry up and grab this offer at generationapp.com,