Microsoft has launched a new and interactive demo website for Windows 10. If you are still deciding whether or not to upgrade to Windows 10, this website will help give you a feel of the new operating system.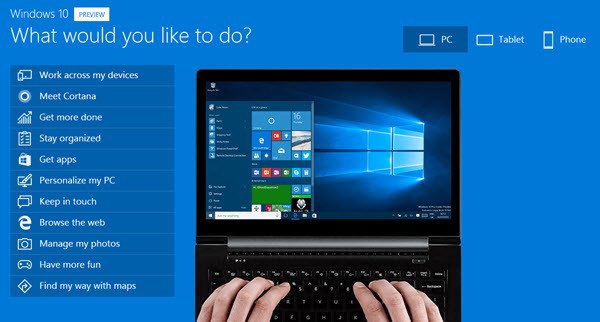 Test Drive Windows 10
The interactive website helps users with detailed information about upgrading Windows 10 on tablet, PC as well as Windows Phone. Right from the Cortana to Personalization of your PC, finding way with maps to getting Windows apps; this website will help you understating Windows 10 and all of its features in a comprehensive way. The website includes simple tutorial videos, detailed how-to guides, device specific instructions and guidelines and much more.
The demo website includes the major categories like Meet Cortana, Get Apps, Personalize my PC, Manage my Photos
Find my way with maps, Stay Organized and Browse the Web (With Edge) which let the users take a demonstrative tour of the latest operating system before they go through 3GB download and the upgrade procedure. The website actually help users getting an idea of how Windows 10 work.
Tablet and Windows Phone users can also take a demonstrative tour of Windows 10 from the new interactive website. The best benefit of this demo website is that the users get familiar of the interface and features of the OS before even they install it in their computer systems.
Basically it is an emulator which enables your computer system to behave like a Windows 10 PC and is specifically designed for the users who want to take a test drive of Windows 10 before upgrading their PCs. However, you might not find the deep explanations of features but still it is worth watching and testing.
Head over to the new Windows 10 Demo Site here to check it out.