In an effort to keep up with the changing financial trends and the need for the consumer to stay updated 24X7, Microsoft launched a brand new service named as MSN moneyNow. This new service on the MSN portal 'keeps users up to date with the latest business and investing topics that are buzzing on the web' while also allowing them to track down important updates in the financial market as-and-when they happen.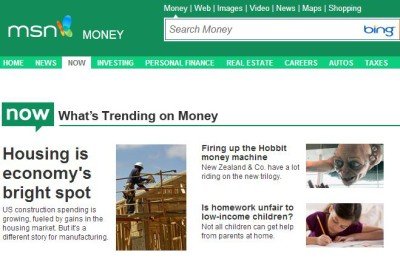 According to Microsoft, data is collected from real-time sources such as Twitter, Bing and StockTwits and is then filtered by MSN writers and editors to be displayed in the Money's Trending new module. It contains latest news posts from the financial sector, market updates, information about the top stocks and more.
"The Trending Now box displays financial keywords and stock tickers that are hot on search and social media. The results are determined by a computer algorithm, displayed automatically and not filtered." – Amey Stone, MD, MSN Money.
Though it seems to be a decent effort in keeping users updated with respect to news and trends from the financial market but there's a lot that be improved/added over the time if Microsoft intends to attract maximum visitors to the new service portal.
Supposedly, MSN moneyNow provides best experience when accessed through Internet Explorer 10 on a Windows 8 machine but is available for all MSN visitors regardless of the browser or operating system they're using.