Microsoft has launched a new digital marketing platform for small and medium-sized businesses: Digital Marketing Center. It is an experimental project by Microsoft Garage that allows SMB owners to manage and publish their digital marketing strategies across multiple platforms all at the same time.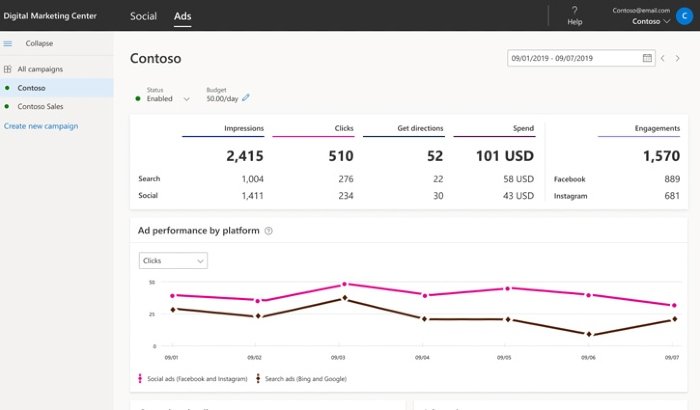 Microsoft launches Digital Marketing Center
Digital Marketing Center is powered by artificial intelligence (AI). It allows SMB owners to optimize and automate digital marketing plans including organic social media and digital advertising campaigns across multiple platforms such as Microsoft, Google, Facebook, Twitter, and Instagram.
Thanks to Digital Marketing Center, users can search and social media advertising with the help of Microsoft's Artificial Intelligence (AI) technology whose job is to improve the overall performance of your campaigns for better Return on Investment (ROI).
Let's discuss some of the key features and capabilities of Microsoft's Digital Marketing Center:
AI-powered search and social advertising management
Thanks to its Artificial Intelligence (AI) capabilities, companies can quickly and easily create digital marketing campaigns and set advertising goals, helping them convert potential audiences into physical visitors among several other benefits.
In addition to increasing online traffic and overall web presence, companies can essentially boost calls to their business, define location targets, and their daily budget.
"Write a few ads to start, then watch as Digital Marketing Center creates additional ones for you to optimize your campaign performance," said Microsoft Garage.
Digital Marketing Center further helps SMB owners optimize their ROI with AI, which automatically distributes their budget across platforms to help them get possible returns on their investment. Furthermore, companies can review key metrics like impressions, clicks, and engagement at once.
Organic social media management
Digital Marketing Center allows businesses to draft and schedule content to publish on linked Facebook accounts. It also provides businesses with an option to interact with their customers: Like and reply to comments on Facebook and Instagram posts. Companies can easily keep track of key metrics like impressions, engagements, and audience growth, all in one place
Digital Marketing Center, is currently in beta and is limited to small and medium-sized businesses in the U.S. Folks at Microsoft Garage are also offering $100 credit for beta testing to select participants.