Microsoft recently launched new Windows 10 Security platform to combat the latest virus and malware threats. On the Windows for Business website, Microsoft mentions all aspects related to the latest Windows 10 Security platform. In order to incorporate latest security parameters; Microsoft has made significant architectural changes. The software giant is certain that this time, the security measures will not only protect the customers, but also keep the latest and potential threats away.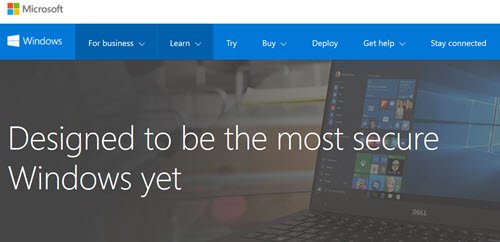 How new Windows 10 Security is better than before
Today's digital world is facing more malware and virus threats than before. Businesses all across the globe are becoming digital; be it finance, health, manufacturing, retail, education or travel. Services and people now connect via the internet. People are now storing their valuable data online or to the cloud storage systems. In such case, even a smallest security threat can create massive problems for the businesses.
Microsoft mentions that the new Windows 10 Security platform can provide much needed security in today's modern security threats. Microsoft mentions that,
"In Windows 10, we have made significant architectural changes to the platform, many of which address tactics used in the attacks that you have been reading about or have personally experienced. These changes are not just defensive measures that present steeper walls for attackers to climb; they are improvements that take critical tactics off the table, in some cases entirely. To achieve this goal, Windows 10 takes full advantage of state-of-the-art hardware technologies to help protect user identities, information, and devices against hacking and malware threats."
Features of the latest Windows 10  Security platform
Microsoft has integrated following features in the new Windows 10 Security platform.
Device Integrity: Windows 8–certified or more recent devices include a new hardware component called UEFI Secure Boot, which helps maintain the integrity of the system firmware and operating system from power on to power off.
Cryptographic processing: Windows 10 can use a TPM as a means to verify that device integrity and security capabilities from UEFI, Trusted Boot, and other features are in their desired state and have not been tampered with. This makes the Windows 10 TPM useful for remote health attestation and conditional access scenarios.
Virtualization: Hardware-based security and isolation are central to the Windows 10 Security platform strategy. In Windows 10, VBS powers features such as Device Guard and Credential Guard, which greatly deter malware, hacking tools, and breaches.
Biometric sensors: Windows 10 Security platform has Microsoft Passport and Windows Hello. These enterprise-grade technologies provide strong multifactor authentication capabilities that are similar to smartcards, but are more flexible in their ability to take advantage of fingerprint, facial, and iris-based biometric technologies.
Microsoft ensures all its users that these features in Windows 10 Security platform will certainly take the security measures to the next level. Check out the full report on Windows 10 Security platform on the website.