The Windows Dev Centre was launched in October, 2011. Since then, Microsoft has worked on it continuously to increase its efficiency. Microsoft's team works closely with software architects and developers all across the world to understand the requirements and then provide the best samples and guidance for app builders. And with this continues hard work, Microsoft has come up with new features and new experience for the Windows Dev Center.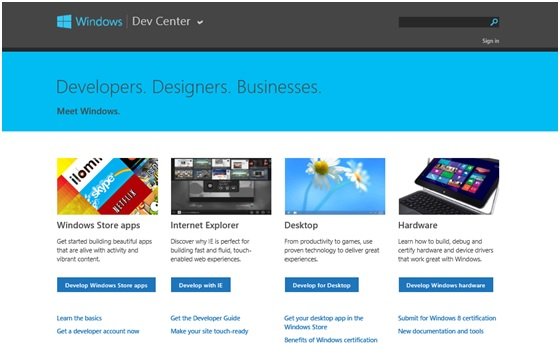 Windows Dev Center
The Windows Dev Center brings new features for the four domains namely Windows Store apps, Internet Explorer, Desktop, hardware and device drivers. With the new developments in Windows Dev Center, it brings a vibrant and thriving app ecosystem. With this, you get great apps, great reach opportunity and great economics.
As a user, you get following features with the Windows Dev Center:
1)      It is redesigned with more visual appeal that matches the personality of Windows and Windows.com.
2)      It has got new navigation and landing environments that are aligned by role and development cycle.
3)      It has new sub-navigation to aid in discoverability of key resources.
4)      The new 'Get Started' section comes with everything a first-timer needs to get going with apps.
5)      The new 'Design' section for designers is more comprehensive and discoverable.
6)      The new 'Develop' section for developers with key tasks and downloads highlighted.
7)      The new 'Market' section includes tips for passing app certification, creating a Windows Store listing, marketing your apps, and evaluating telemetry data.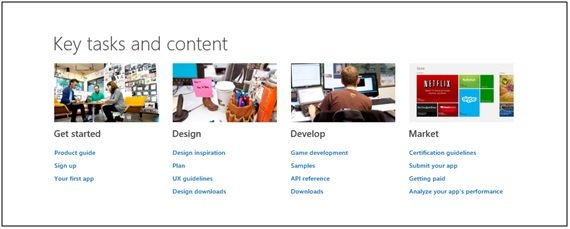 The new Windows Dev Center helps users find out what they are looking for in an informative website.  The Dev Center offers thousands of topics and tools for the designers and businesses.  The Windows Store app offers better focus based on user's role and scenario. It puts everything that you need to get started in one place.
The new features of Windows Dev Center brings the best for all industries. With the help of this center, the app builders, designers and businesses are connected with the resources they need to succeed in developing great apps. The Windows Dev Center truly develops a strong bond between the users and Windows.