Microsoft has launched the Surface commercial customer ordering site. Using this site, Enterprise, Business and Volume buyers will be able to place their orders for Surface tablet here. Using the link for your country you can order Surface devices, accessories, and after-market service plans.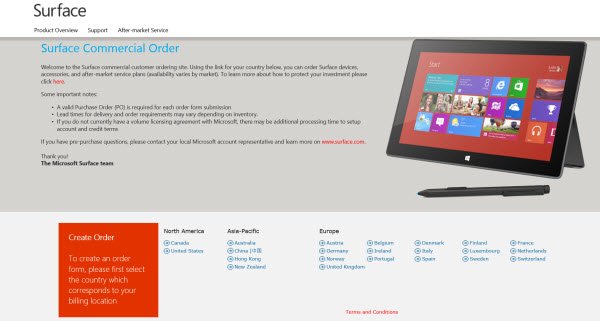 While Surface devices come with a standard one-year limited warranty, you may want to consider purchasing a Surface Extended Hardware Service Plan for both Surface Pro and Surface RT devices and includes an extension of the hardware warranty up to 3-years. The Extended Hardware Service Plan is priced at $200 per device for Surface Pro and $150 per device for Surface RT.
If you already have a volume licensing agreement with Microsoft, you may expect quick deliveries. But if you do not have one, deliveries may take a little more time as some time will be required to set up the account and credit terms.
Orders are currently being accepted from the following countries: Canada United States, Australia, China, Hong Kong, New Zealand, Austria, Belgium, Denmark, Finland, France, Germany, Ireland, Italy, Luxembourg, Netherlands, Norway, Portugal, Spain, Sweden, Switzerland and United Kingdom.
Go here to visit the site if you want to place Surface Volume Orders.
You will be required to log in using your Microsoft Employee, Partners domain, Windows Live or Federated Account. I used my Windows Live ID to get in.