Microsoft has launched Microsoft Teams Premium for an all-in-one collaborative experience. It incorporates the latest technologies, including Large Language Models powered by OpenAI's GPT-3.5, to make meetings on Teams, more intelligent, personalized, and protected.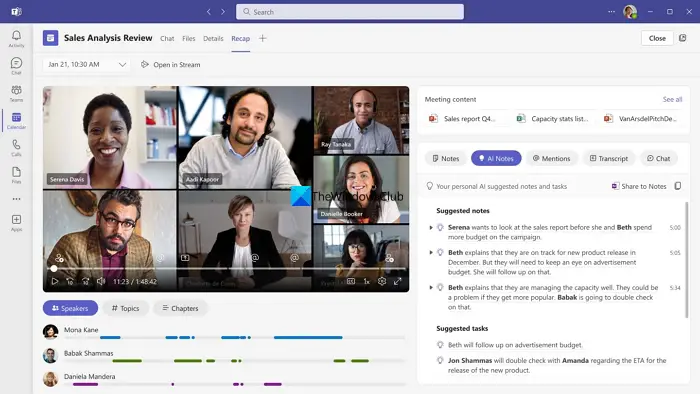 Microsoft Teams Premium will be powered by ChatGPT
As customers are looking for features to increase productivity, Microsoft is making sure it gives all the tools and features that users expect. Microsoft Teams is offering more advanced meeting capabilities to increase productivity and help to consolidate the software investments by the users. Many users around the world are paying for additional tools and add-ons on Teams for webinars, virtual appointments, meeting intelligence, and more. Microsoft Teams premium offers advanced meeting capabilities and more for a cost of $10 per month per user. There is also an offer running for a limited time to get Teams premium for as low as $7 per month per user, which is 30% off of the standard price.
There are many time-consuming tasks that we do in the meetings. These tasks are repetitive and take a lot of time like taking notes, figuring out important takeaways, capturing the right action items, etc. To solve this problem, Microsoft is infusing AI throughout the meeting experience, helping you to be more productive without focusing on repetitive, time-consuming tasks. With intelligent recap in Teams premium, you'll get automatically generated meeting notes, recommend tasks, and personalized highlights to help you get the information that concerns you in the meeting, even if you miss the meeting.
The AI features in Microsoft Teams Premium generate AI-generated chapters that divide the meeting into sections that make it easy to pick the content relevant to you. The personalized meeting highlights will expand to speaker timeline markers to show you who spoke during the meeting. You can jump to any speaker you like to listen to. The AI will generate notes, tasks, and live translations of 40 spoken languages on Microsoft Teams Premium. Only the organizer of the meeting needs to have Teams premium, where the rest of the attendees enjoy live translations.
Not only cutting out the repetitive tasks, on Microsoft Teams Premium you can create Branded meetings with already approved organization backgrounds, and organization-together mode scenes. This feature will be available in mid-February 2023.
Coming to the protection of meetings, you get advanced meeting protection features on Teams premium like watermarking to discourage leaks, and limiting who can record a meeting. The IT-enabled users can apply end-to-end encryption (E2EE) to the meeting.
With Teams Premium you can have virtual appointments with the customers saving you time and money on additional add-ons or point solutions. Your scheduling administrators can set up and manage scheduled and non-scheduled on-demand virtual appointments with advanced capabilities like appointment queuing.
If you are hosting a webinar, you get a virtual green room feature so you can prepare for the webinar in advance and do a quick briefing. You can manage what attendees can see, you can set the registration waitlist and approve attendees manually, and customize the registration start and end times for better event management. You can also set automatic email reminders to the attendees to build the buzz for your webinars.