Microsoft has released an online emulator, Trylumiaphone, for Lumia devices, where a user can try a Lumia phone before buying it. The emulator tells how Cortona, a voice based assistant tool for Windows Phone works. User can ask Cortona to do anything on the device – from tracking flight, weather updates, playing favourite sound track to reading emails.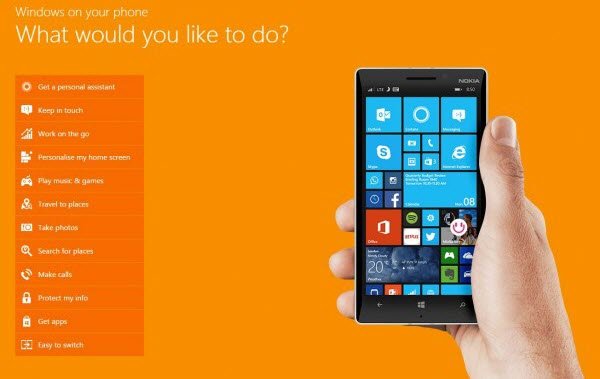 TryLumiaPhone
Messaging App: The inbuilt messaging feature helps user to check all emails in one place, stay connected using different apps like WhatsApp, Facebook, Twitter etc.
Work on the Go: In-built Office Word, Excel, PowerPoint, Outlook apps make working on the device almost virtual even after being away from the computer also helps to present those PowerPoint, Excel slides on big screen by connecting Lumia device with large TV or projector which supports Miracast functionality.
Easy Customization: User can take home screen personalization to a next level. Windows Phone user can customize home screen by arranging tiles the way they want, decorate home screen with favourite picture and can customize with favourite colour of their choice.
Games & Navigation: Play anytime, anywhere, connect Lumia with Xbox friends and discover new games with pre-installed games application and Windows Store. The navigation app helps user to drive in around 94 countries with voice guidance, works both in offline & online mode and can even track down remote destination.
Lumia phone comes with a pre-installed Find my phone app, which helps users to track their phone in case it gets lost. The Easy transfer application helps user to transfer or sync content from iPhone, Android to Windows Phone. Clicking pictures, recording video in HD, taking pictures in low light & shoot and share feature makes the device top performer in low-budget smartphone segment.
If you are planning to buy Lumia phone this fall, then don't forget to visit TryLumiaPhone before you buy.