After introducing many sleek smartphones from various manufacturers running Windows Phone 8, Microsoft officially launched the new mobile OS platform, a successor to Windows Phone 7. Joe Belfiore, corporate vice president of Windows Phone Program Management, took to the stage and laid off the wraps of the new Windows Phone 8 – Reinvented around you!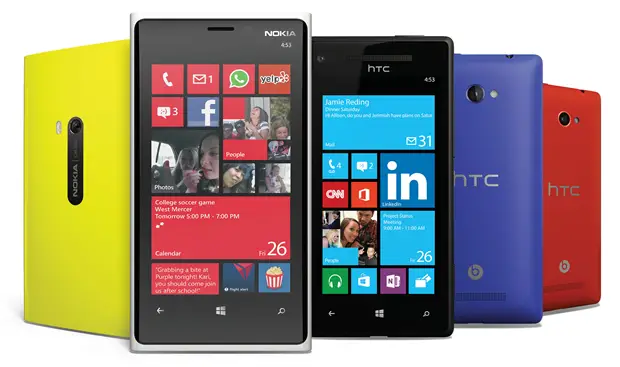 Joe upped the excitement as he shared more info about interesting and not-seen-before features which definitely made the audience and viewers go WOW! Joining him on stage was celebrity guest and Hollywood star Jessica Alba who underlined how big a fan she is of the Windows Phone platform while also stating how the Kids Corner on the new Windows Phone 8 helps secure privacy and save one from many embarrassing moments. Steve Ballmer, CEO – Microsoft, later walked up on stage to re-plug about the good efforts that Microsoft has put in and about the whole new experience that a user can benefit from his Windows 8 and Windows Phone 8 devices.
We run a quick gist of the important announcements and features:
The Start Screen acts as an extension of the user with personalized Live Tiles coming in three sizes plus freedom to the user to manage the Start Screen and Apps as per his/her customization.
Kids Corner allows parents to thrust their windows phone devices to their little ones without any worry. It allows the parent to create a protected environment on the phone where kids can access only the apps and features as selected by the parent.
Rooms allows the user to create an intimate virtual hangout where he/she can effortlessly share content like photos, messages, music etc. only to a selected group of people. The ability to add up members not using a Windows phone device into a Room is what takes the cake.
Xbox Music allows you to manage your music library seamlessly and also sync with your Windows 8 PC/tablet to gather records or stream music on demand.
The new Skype app for Windows Phone 8 runs on the device all day without draining the battery. This enables the user to be 'available' all time and make/receive calls from friends almost anywhere anytime.
Data Sense on Windows Phone optimizes the data usage while browsing through your Windows Phone and helps you keep track of the data limit and the data bill.
Many new games were announced for Windows Phone 8, some of which were dearly missed in Windows Phone 7.5. Few of them are: Angry Birds Star Wars, Cut the Rope Experiments, Disney's Where's My Water, LivingSocial, Temple Run, Urbanspoon etc. Pandora, the leading Internet radio service will also debut on the Windows Phone Store in early Q1 2013 with one year of ad-free music.
Many Windows Phone 8 devices have already been launched and will be available from early November 2012. The flagship devices include the Nokia Lumia 920, Samsung 8X and 8S and the Samsung ATIV S.
"If you're one of the hundreds of millions of people who will use Windows 8 in the next year, there is no better phone for you than a Windows Phone" – Steve Ballmer, CEO – Microsoft
Windows Phone 8 now supports 50 languages, offers app support in 191 countries and has more than 120,000 apps in the Windows Phone Store. Microsoft announced that the Windows Phone 8 Software Development Kit (SDK) will be available from today (30th October 2012).
http://www.youtube.com/watch?feature=player_embedded&v=SQZEkXCE_fY
Microsoft seems to have scored a point with the boldest and most innovative mobile operating device at present. It'll be interesting to watch as to where they take this forward.