The next-generation Xbox is to be revealed on May 21, 2013 and keeping the buzz alive, Microsoft today launched an official blog for its Xbox division calling it as Xbox Wire.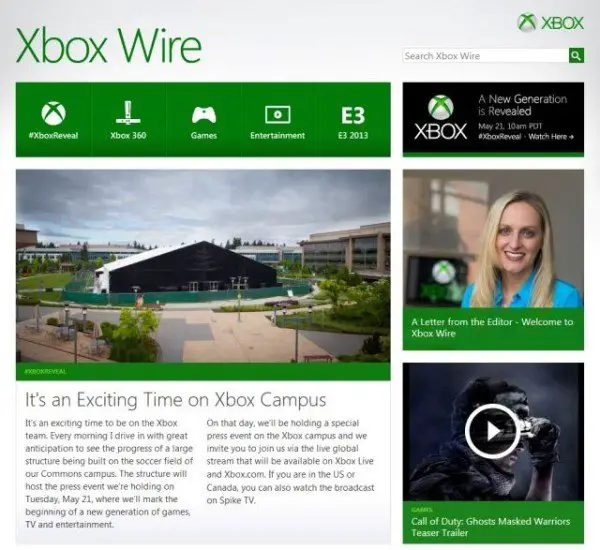 For long, Microsoft has been devoid of an official Xbox blog though Larry Hryb aka Major Nelson, Director of Programming for Xbox Live, has been pretty active on his own blog about posting official news posts and announcements. With Xbox Wire, Microsoft has given an official face to the Xbox team's presence on the web.
"In preparation (for #XboxReveal), we're launching Xbox Wire – a news blog to help you keep up with the latest Xbox news. You will be able to follow our journey as we bring you the best in games and entertainment and along the way we'll introduce you to the people, places and technology that bring it all to life." – Lisa Gurry, Editor of Xbox Wire
The homepage of Xbox Wire sports a picture of a huge tent presently being prepared in the middle of a soccer field for the special press event which is where the new Xbox will be revealed on May 21, 2013.
You'll see some familiar faces on Xbox Wire. Our executives will write blogs occasionally, but most of our blogs will be from everyday people on the Xbox team. Our own Major Nelson will appear as well – both via blog posts and through interviews – of course, Major's fans can also continue to follow along with him at MajorNelson.com.
Launching an official Xbox news blog is the right step in the right direction and more importantly, at the right time as the world gear up to get a glimpse of what next-generation gaming will look like. The new Xbox console will spring many a surprises during the #XboxReveal event so guesses about it being the trending topic whole day on social media channels.
Tuesday, May 21, is a big day for Microsoft. And we're excited too!