Targeted to help improve the social community, Microsoft announced the YouthSpark Challenge for Change contest that invites users to share more about their social good project and how Microsoft products can help bring it to life.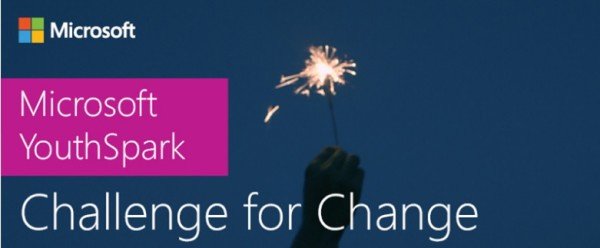 Focusing on the social good theme, Microsoft wants users to simply fill out a few questions about their project on similar lines and specify how using Windows and Office will help make a difference and propel it to its completion and implementation.
Apart from a free volunteer trip to Kenya for the Grand Prize winners, Microsoft has ensured that all participants will be winners too, as below:
Everyone who enters between now and May 24 will receive a $25 gift card for GiveforYouth.org, our micro-giving portal designed to help you fund and follow social good projects for young people around the world.
20 Finalists will receive a Microsoft Surface with Windows RT and Office Home and Student 2013 to help create their winning video entry.
Five Grand Prize Winners will receive:
A life-changing, all-expenses paid volunteer trip to Kenya in August 2013
$2,500 cash to help kick-start their ideas
A Microsoft technology bundle including a Windows Phone 8 and Xbox 360 with Kinect
The opportunity to serve as a YouthSpark ambassador for the year and take advantage of YouthSpark training and resources
Applicable only for U.S. residents between 18-25 years of age, the YouthSpark Challenge for Change contest runs from May 1, 2013 to May 24, 2013. The finalists will be announced on June 17, 2013 with each of them winning a Surface RT tablet. Votes from the public will then be entertained to produce five grand prize winners from the twenty finalists and the announcement will happen on July 1, 2013.
http://www.youtube.com/watch?feature=player_embedded&v=Z6uJAzdPjlM
This is a great opportunity for folks with great social ideas to bring them to life. Enter the challenge here.