In the past years, we have seen Microsoft enlarging its user-base by launching many of its apps for platforms other than Windows. Microsoft apps for iOS and Android are an important part of this journey. In the latest move, Microsoft has launched its Lists app for iOS. Users can download the app from the app store now.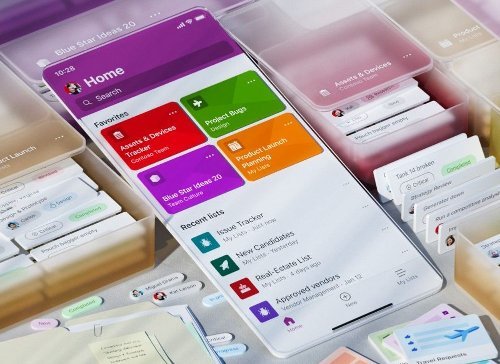 Download Microsoft Lists for iOS
It's part of the Microsoft 365 suite from the company and allows users to create intuitive lists. Users can use the lists to keep track of issues, contacts, inventory, and almost anything that requires a plan.
Microsoft says that it has designed the Lists app for a mobile-first experience. It means you can enjoy super-smooth navigation and sector-wise viewing options. The company has also included a few templates inside the app. For instance, the app allows you to create an app from multiple sources.
"Microsoft Lists is a Microsoft 365 app that helps you track information and organize your work. They are simple, smart, and flexible, so you can stay on top of what matters most to your team. And now you can track issues, assets, routines, contacts, inventory and more to keep everyone in sync from anywhere while on the go with a personalized, mobile-first experience," Microsoft said.
Instead of typing entries, you can import data from an Excel file or a list you have made elsewhere. You can use the same app to access lists created by your friends and acquaintances in the Microsoft 365 ecosystem. You don't always need an internet connection, either, thanks to the offline mode.
There are also a few features that make Microsoft Lists a worth-checking-out utility app on iOS. For instance, users can add photos to the list, and the support for QR code scanning makes things easier. Similarly, thanks to the impressive design, you won't have trouble customizing your feed view.
Microsoft ensures every bit of content on the app is protected by military-grade security and compliance. Finally, organizations with a Microsoft 365 enterprise plan can enjoy Mobile Device Management and Mobile App Management policies' benefits.
An organization should have an Office 365 commercial subscription to enjoy all the team-centric features, though. It is worth noting that the Microsoft Lists app is now available for iOS only.
The announcement mentioned that an Android version of the app is under development and that it will be launched in the latter part of 2021. Considering how well Microsoft has designed this app and its features, Lists for Android seems to be an app worth waiting for.