For Lumia fans, it can't get better than this. Believe it or not, at just 83 Euros, here comes the Lumia 530, the most affordable Nokia Lumia Phone till date. Microsoft Devices Group, today, that the affordable Lumia device will be available starting August 2014.
Loaded with high end features such as Action Center, Word Flow, Cortana and personalized Start screen backgrounds, the Lumia 530 is built to deliver the most personal smartphone experience, courtesy to Windows Phone 8.1.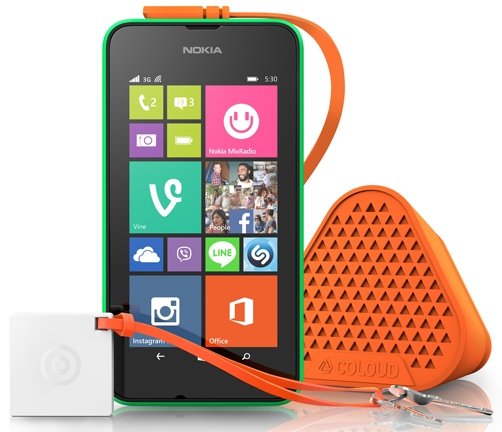 Jo Harlow, corporate vice president of Microsoft Devices Group, said at the announcement,
"We are moving quickly to help more people experience the uncompromised Lumia technologies, third-party apps and Microsoft services that we deliver on our flagship products," Lumia 530 underscores our commitment to making affordable smartphones for everyone, and introducing more people to the best of Microsoft."
Lumia 530 specs

Lumia 530 has the makings of a high-end Lumia Phone.  The Phone is powered by 1.2GHz quad-core Qualcomm Snapdragon processor that delivers a super fast and lag-free user experience of your favorite apps, gaming and internet browsing on the 4-inch LCD display.
Just look at the features of this Windows Phone and you would know why Nokia Lumia 530 is a threat for its competitors.
Equipped with the latest version of Windows Phone 8.1
Integration with Microsoft services such as Skype and Microsoft Office
Availability of Instagram, WhatsApp, Viber and WeChat
The dual-SIM 3G variant for easy switching between two SIM cards, helping people manage their data costs
Smooth performance with signature Lumia apps such as Creative Studio and Glam Me, which help people take voice-guided selfies with the 5-megapixel rear camera
More content and apps with 4 GB of onboard memory, expandable with SD cards up to 128 GB, and an additional 15 GB of free cloud storage on Microsoft OneDrive.
Alongside Lumia 530, Microsoft also announced  the new Bang mini speaker by Coloud.The €19 portable speaker can be connected to your phone via the 3.5mm headset jack. Also, the rechargeable speaker provides great sound for up-to 8hours.
Really! I am eagerly waiting to hold this exciting Lumia in my hands. What about you?