Microsoft's Modern Keyboard and Mouse are now made available for sale. The premium Keyboard and Mouse come with a price tag of $129.99 and $49.99 respectively. The Modern Keyboard comes with a fingerprint reader and brings Windows Hello to any Windows PC.
While once can always use Windows Hello using their face but they need to turn on the camera for that. It has now been beautifully and subtly designed as a regular key thereby helping the users to unlock their Windows devices fast and in a more convenient way. With this new Keyboard, you can just swipe your finger and get an access. Windows Hello is a new popular alternative to the passwords and is more secure.

Crafted with the aluminum top case, the new and Modern Keyboard boasts a sleek and low profile design. The keys are designs with a 2mm gap to maximize the typing efficiency and accuracy. Furthermore, the keyboard also features a hardwire connection and a Bluetooth 4.0 so as to pair it with a Windows 8/10 device, Windows 10 Phone, or any Mac OS or Android device. In short, this wonderful and stylish keyboard will work with any machine.
The keyboard is purposely designed with the chiclet-style keys in a conventional 104 key Windows layout so as to match with the new Surface models. The fingerprint scanner is placed between Alt and Ctrl keys. The keyboard with the fingerprint scanner is indeed a gift for the users who are bad at remembering the passwords.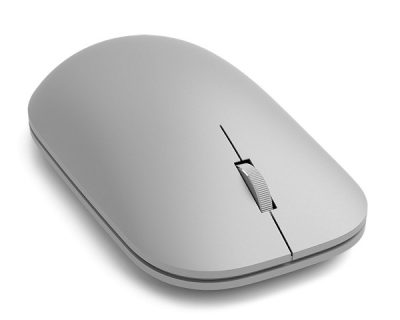 Sold separately, the Modern Microsoft Mouse is also designed specifically to suit your desk space. The beautifully crafted mouse priced at $49.99 certainly complements the Modern Keyboard and completes your desktop.
The mouse is designed with a raised arc to give a better support to your palm which further relaxes your palm in its natural position. Being wireless it is much more convenient and the metal scroll wheel feels solid under the finger. The Modern mouse comes with a battery life of 12 months.
"The Microsoft Modern Keyboard with Fingerprint ID and Microsoft Modern Mouse are put up for sale in the US, Canada, and China for now at microsoftstore.com".
So, two new gems are now added to the list of stylish peripherals from Microsoft. Head over to the Windows Windows Blog for technical specifications of the new devices.