This is one fine new initiative that Microsoft has introduced! MVPs will now have the option to 'officially' associate with and mentor up to two MSPs, as a part of the MVP Student Mentor Program.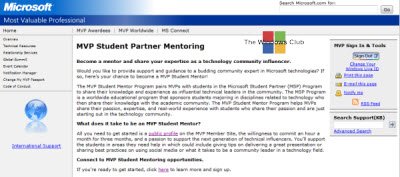 The Microsoft Most Valuable Professional (MVP) Program recognizes individuals from around the world,  who freely share their knowledge and real-world expertise with others and help people enhance the way they use technology.
The Microsoft Student Partner (MSP) Program is a worldwide educational program that sponsors students majoring in disciplines related to technology who then share their knowledge with the academic community.
The MVP Student Mentor Program pairs MVP's with MSP's, and lets the latter gain from the expertise and experience of the former.
If you are MVP, you can login with your MVP credentials and register yourself for the program.  Once an MSP chooses you, you will be informed by mail. You are of course free to accept or decline the request to be a mentor. You will need to commit around one hour a month for three months and follow the MVP Code of Conduct. An MVP and can mentor up to two MSPs.
So if you are an MVP and would like to become a MVP Student Mentor, head over to MVP Members Site for Mentors for additional details. As mentioned, you will be required to login to see the details. MSP's may login to their Dashboard and chose the Select MVP option. If not, they may contact their community manager or leader to learn more about this program.
Most MVP's are already, in one way or the other, associated with various communities and have the opportunity to interact and mentor students from their communities – whether offline or online. What this program will do, is extend and formalize the relationship, where such an association exists, and build new opportunities where it does not. This program will also help MSPs from remote locations to connect with the MVPs via a portal.
UPDATE: The MVP Mentor Program gets a new website.