Are you a news buff? If your answer is yes, we have good news for you (no pun intended)! Microsoft has come up with a new Scrolling news bar app for Windows 10 users. The News Bar app is currently in beta, and it delivers a scrolling news bar that sits comfortably above the Windows 10 taskbar.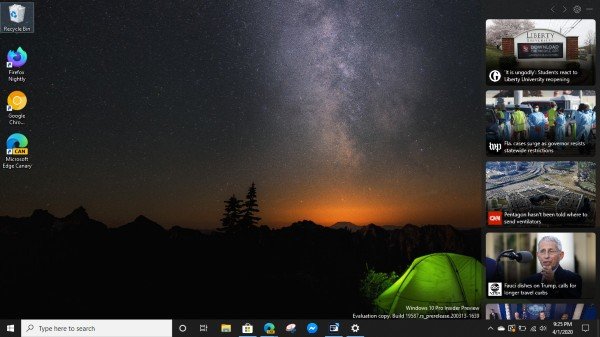 News Bar app for Windows 10
The News Bar brings you the latest news from the Microsoft News network of over 4500 of the world's most respected journalism brands.
Interested Windows 10 users can download the News Bar app via Microsoft Store. The app is approximately 184MB in size. Here's the interesting part. There's ample room for customizability.
"Microsoft's Windows News Bar works just like the Windows Taskbar. It's there when you need it, where you need it and how you need it. Customize its appearance in settings to find the experience that's just right for you."
Once you've installed the app, you can decide where you want the news to appear and in what format. For example, as soon as we opened the app for the first time, it started showing the scrolling pictures on the right side of the screen. You can always customize the position where you want the news to appear. You can choose from the following set of options: Top, Bottom, Left, and Right.
Furthermore, it enables visual customizations so that you can decide the format in which you want the news to appear on your screen. You can choose from Text and Image. If you select Image, you need to hover over images to preview the story headline and a short description.
You can customize the background whether you want the scrolling news bar to appear transparent or match with the Window theme you might have configured on your PC.
"If you want to focus, don't worry, you can minimize the News Bar at any time and then bring it back when you're ready for it again."
Well, this is not the first time Microsoft has come up with scrolling news app for Windows computers. If you recall, it bears striking resemblance to scrolling news bar apps we used to play around with while using the 90s for Windows computers.
The app also provides users with customizable stock information. Meanwhile, the real-time news stories are being delivered from over 4,500 publications. Interestingly, the app opens stories via Edge irrespective of your default web browser preference.