Microsoft has announced its News Pro App for Android phone users. A product from Microsoft Garage, News Pro aims to deliver a personalized news reading experience for its readers. News Pro is based on the similar lines as you would associate with RSS apps, perhaps drawing a closer comparison with Google Now.
Don't be surprised to know that News Pro was first released eight months back on the iOS platform and Microsoft even released Version 2, 4 months later, at a time when were no Android or Windows app for it. Perhaps, it just gives you an idea that Microsoft is looking to make its apps popular on other platforms than Windows.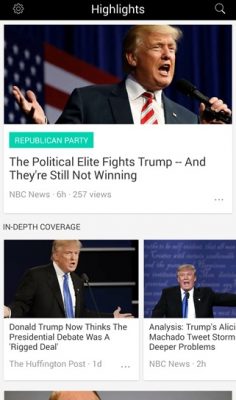 Microsoft News Pro app for Android
You can sign in News Pro using Facebook, Linkedin, Twitter profile or via Email option. News Pro is supposed to gauge what you like from your social media accounts. The app will use this information to show you relevant content that it thinks you would like to read.
The landing page of the app (Under Highlights) has numerous sections and news is refined by its categories such as Republican party, Finance, Space Science, NFL, European Tour and more. For your specific news search, you can use the search bar at the right-hand top to find a specific topic and add. The news feeds coming as of now is very US-centric, and it remains to be seen how the app shows up the selected topics based on the region.
Garage team has provided plenty of options to share the news stories via News Pro. You can draw and annotate on an article and share it via News Pro, or you can comment and share. The app provides an option to share the news stories to almost any social channel you like.
ON the flip side, News Pro doesn't have a WebView or Flipboard functions. Apart from being slow, the app does not provide any option to switch from highlights to a category or topic view, and that's something that makes it look cluttered.
Another noted issue is how to manage your subscriptions. If you want to unsubscribe from one of the topics that you subscribed earlier, you need to search for it again to uncheck the "Add" button on the search results page, and this process itself is quite a time taking.
The app (version 1.1) is in early stages of its lifecycle and let's hope that a more functional version is on the way.
Click here to download it from the Google Play store.