A few days back there were reports of a sticker on laptops seen at the Microsoft Redmond campus . It was a ninja cat riding a fire-breathing unicorn and holding a Windows flag. This special sticker was reportedly seen on laptops of Windows team members at Redmond campus. There were mentions of it being seen much earlier in last year only. It was good to see such cool stickers being displayed by the Windows team.
Ninja Cat Unicorn sticker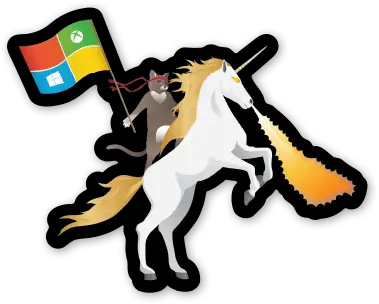 Slowly, people outside noticed the sticker and since then, this sticker appears to have taken the Internet by storm, so much that even MSDN Channel 9 mentioned it as also did the Fox Business channel, Business Insider and others. It went viral! Many people started demanding this laptop sticker.
Looking at the demand, Microsoft listed this sticker in its online company store, and made it available for sale. As was expected, these Ninja Cat Unicorn stickers were sold out very quickly, and they have now disappeared from the Microsoft online store.
The news about this Ninja Cat Unicorn sticker going viral, made Red-Bubble, popular online market place put these stickers up for sale for the public. The stickers are priced at $2.88.
What this sticker stands for or means, no one seems to be knowing.
But if you happen to be attending the upcoming Microsoft Ignite event, then Microsoft will be giving these as freebies at their sessions . So  don't miss your chance to get it.
Others who are not so lucky, can actually download some beautiful Ninja cat unicorn wallpapers for their Windows PCs.
Microsoft MVP Michael Gillett has created several cool Ninja Cat Unicorn wallpapers featuring the ninja cat. They can be downloaded from OneDrive.
There's even the Dutch version, Windows Ninja cat Cow sticker and wallpaper from Maarten Goet.
With the Ninja Cat and Unicorn sticker going viral, Microsoft has come up with the limited edition of Kalamity Jake the Disaster Ape stickers. These stickers  along with white bordered and black bordered ninja cat stickers will be given away as swag at upcoming Microsoft Ignite Storage and HA sessions.
Its good to see people looking at Microsoft being cool, even if it happens via a sticker. It's a different Microsoft  now, already people are liking Microsoft releasing its apps across platform, OS and devices.
So has any one of you already got your hands on these cool stickers?