The festive season has begun, and the anticipation to meet Santa Claus is obviously very high. This year too, NORAD and Bing will let you know the whereabouts of Santa, Microsoft has teamed up with North American Aerospace Defense Command (NORAD). This is the second time Microsoft has partnered with the aforementioned agency. It was last year that NORAD decided to track Santa using Bing, rather than Google, with whom they were earlier associated with.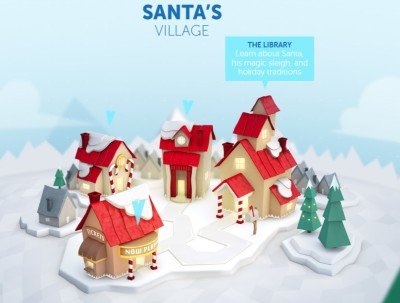 Bing NORAD Santa Tracker
Google too does the same thing. Both the strong forces of Silicon Valley have put on a count-down timer on their respective dedicated website. Google had announced a new way to track Santa, using Google Santa Tracker.
Interestingly, Microsoft's countdown timer is 3-hours advance to Google's, which essentially means that people who are using Microsoft's service will be able to locate and possibly meet Santa before the Google herds.
On this occasion, Internet Explorer team has enhanced NORAD's tracking website and pushed the new Web standard – HTML5 and made the website touch-friendly. Microsoft is coupling its other services with NORAD to make it more effective. You can use Skype to call to check the live updates from Santa's place, Bing is taking care of the map department, and Azure servers are providing web-space for NORAD's website and traffic.
Now here is a fun fact about NORAD, back in 1955, due to a human error, the phone number of NORAD was mistakenly published as the contact information of Santa. As you would expect, they started getting numerous number of calls from kids asking the whereabouts of Santa. The agency didn't get that information corrected, in stead, in the spirit of this festival and tradition, it extended its service and started providing the location of Santa as well.
Here's a tip if you want to check NORAD's website, use Internet Explorer for better navigation, and overall browsing experience – or better still, use this NORAD app for Windows 8.