If you are a user of Windows 7 or Windows 8.1, you must have gone through the annoying process of updating the OS for latest updates and app versions. The message –
Please do not power off or unplug your machine. Installing updated 2 of 504
has certainly irritated many of us. The numbers in this message always change; however, the annoyance of the process remains the same.
But, here's a good news. Microsoft has finally come up with a simpler way to update Windows 7 and Windows 8.1. All the updates for Windows 7 can now be downloaded from a repository. This catalog of updates for Windows 7 contains all the security and non-security fixes released since the release of Windows 7 SP1 that are suitable for general distribution, up through April 2016.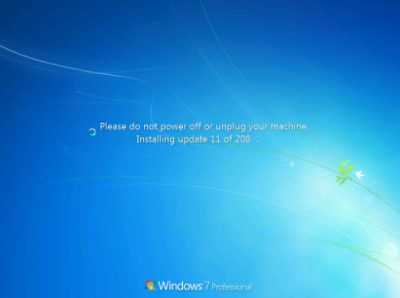 A simpler way to get updates for Windows 7
Nathan Mercer from Microsoft mentions in his blog about this new announcement,
"We're happy to announce today that we're making available a new convenience rollup for Windows 7 SP1 that will help. Install this one update, and then you only need new updates released after April 2016."
He further mentions that,
"And since this update can be injected into Windows 7 SP1 media, it's fully supported to mount a Windows 7 SP1 image (WIM file), then inject this update into it."
One thing to note here is that the convenience update is completely optional. That means, you don't have to install the convenience update and it won't be offered via Windows Update. You can choose whether or not you want to use it for getting the updates for Windows 7 and 8.1.
In order to apply these updates, you need to install the April 2015 servicing stack update for Windows 7 (KB3020369). This same convenience rollup also applies to Windows Server 2008 R2.
For long time, the updates have been published on the Microsoft Download Center and the Microsoft Update Catalog.  To make the security updates easier, the Security Bulletins have been linked directly to update packages on the Microsoft Download Center. However, this process is more tedious than said. Hence, to simplify this, within the next few months Windows updates will no longer be available from the Microsoft Download Center; whereas the Security bulletins will continue to link directly to the updates.
You can download the convenience rollup package to get the updates for Windows 7 and Windows 8.1 from here. Read more about this easier and simpler way to get the updates for Windows 7 and Windows 8.1 on the official blog.