Microsoft is running a cool trade-in program that allows folks to save when purchasing a new Windows 10 computer device. Yes, Microsoft will buy your old computer for a certain amount, and that can be put towards a new one.
According to the software giant, it has launched a new trade-in program called Easy Trade Up where consumers can make a few hundred dollars on their old PC or Mac. The company stated that these computers must be up to 6-years-old, and the deal is only for those who are pursuing a Windows 10 computer.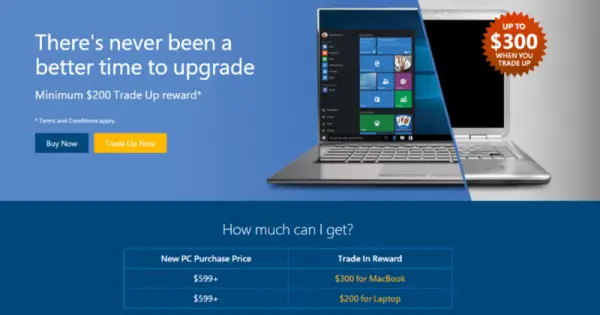 The lucky consumers who plan on taking advantage of this deal can gain some cash from Microsoft to purchase a Christmas gift or to spend big on Black Friday.
We understand that consumers can get a minimum of $200 for a Windows computer, and a minimum of $300 for a Mac. The company is also willing to pay more for the newer and more expensive Apple computers due to their higher resale value. We suspect the higher price on the Mac is to convince Apple fans to make the switch. We're not certain how well that is going to work out, but if it does, then kudos to Microsoft.
At the moment, the trade-in program is only available in Brazil, Canada, France, Germany, India, Taiwan, the U.K., and the U.S. We're not certain if other countries will play a part in the future, but for now, these are the only options.
OK so how does this trade-in program really work:
First, you will need to purchase a Windows 10 computer from Microsoft. They must be either one of these qualifying products. After that, visit Trade Up Now with the relevant details of your purchase. Once accepted, follow the instructions given on how to send your trade-in device, whether it be a Windows computer or Mac.
Once everything is ready, you'll receive your reward in the next 28 days.