Skype has been a huge success for Microsoft. It keeps the world talking! The ease of use is what makes the app so special. However, earlier, Skype required you to download the application for chatting and calling on desktop and mobile. This has been done away with! Yes, in an effort to make it easy for anyone to connect on Skype, the service launched a preview of plugin-free Skype video calls in Microsoft Edge. The Edge browser as you know was shipped with Windows 10, and advertised as a modern replacement for Internet Explorer.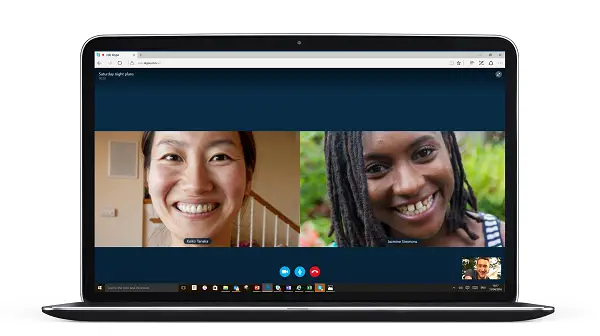 Plugin-free Skype
Today, we're excited to announce that Skype for Web, Outlook.com, Office Online and OneDrive now support real-time, plugin free voice, video and group video calling on Microsoft's Edge browser, using the ORTC media engine that was recently embedded in Microsoft Edge.
The advantage recent changes offer is it makes users feel Skype more like a part of the service already in use, unlike some standalone product. Skype for Web, the browser-based version of the online communications software will benefit from the new functionality. That said, it should be noted that the new experience will be restricted to Microsoft Edge only. Other browsers like, Chrome, Firefox and Safari, will require plugin for running the program.
Plugin-free calling in Edge is the first step towards an interoperable, standards-based calling experience in Skype and Skype for Business, so that Skype users on any modern platform can communicate without the need for plugins or downloads", reports the Program manager of Microsoft Edge Kyle Pflug
So, beginning today no need to download skype as standalone application or plugin to install. Just sign-in and click to start a call on Skype with Microsoft Edge. In the meantime, open your Microsoft Edge browser, sign in to Skype for Web and place a plugin free call to a friend or colleague on Skype.
Microsoft says, it wants to roll out same functionality of plugin free audio and video calling experience to other browsers but what limits their efforts currently is the lack of the H.264 video codec support in these browsers.