Microsoft today released Office 2016 with interesting 365 features, apps and improved user-interface. Not just for the Windows, but Mac users will also be getting Office 2016 as a one-time purchase option. While the latest Office version is released for the machines running on Windows 7 or later, company is calling it a perfect version for Windows 10 machines.
Microsoft Office 2016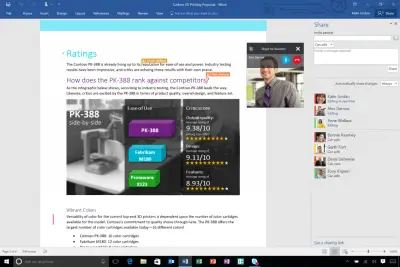 Making it best suitable for businesses, Microsoft has now added some features in Office 2016 where a team can now work together seamlessly.
The way people work has changed dramatically, and that's why Microsoft is focused on reinventing productivity and business processes for the mobile-first, cloud-first world," said Satya Nadella, chief executive officer of Microsoft. "These latest innovations take another big step forward in transforming Office from a familiar set of individual productivity apps to a connected set of apps and services designed for modern working, collaboration and teamwork.
Real-time coauthoring- The updated coauthoring feature will now let users connect with their team mates in real time and see what they are writing. While Office web apps already had this feature since 2013, the company has now taken it to all its native apps too.
Skype for business- This excellent feature brings all skype features right into the Office docs. The Office 365 subscribers can now text, call, or do a video chat with their business clients right in their docs. The feature also lets users share screen directly from their Word docs.   
Office 365 groups- This feature allows users to create the public or private groups and get connected with other users. Each Office 365 group will have its own shared inbox and OneNote notebook, calendar to co-ordinate and cloud storage to store the group files.
Office 365 Planner- With this feature the users can plan their work projects with their team, assign tasks and also set the due deadlines for the project. Each project created with the Office 365 planner will include a visual dashboard and email notifications to keep the team updated with project proceedings.
GigJam- This feature brings an extraordinary way to teams to do the business tasks together, no matter what devices they are using to run MS Office.
Outlook 2016 – Thee smartest inbox with a fast search and cloud-based attachments from OneDrive is what comes with the new Outlook 2016.
Updates OneDrive for Business- The updates OneDrive brings an improved reliability, selective sync and increased file size and volume limits.
Tell Me and Smart Lookup– Already available for Office Online, these features are now made available for Office 2016 client apps. These features will help users finding the right command in their documents.
Excel 2016– You can now make most of your data with the Excel 2016 which includes modern chart-types and integrated publishing to Power BI.
Along with these Office 2016 new features, the subscribers will now be getting the updates and functionality improvements more frequently.
If you are excited to know more about the new Office 2016, head over to the official blog post by Microsoft.