Microsoft launched Office 365 on January 29. 100 days later, the productivity suite is seen as the most successful Office version to date. It has surpassed the 1 million user mark in just 100 days since its launch. This hints Microsoft on an average has managed to sell more than one subscription every second since its public launch.
This achievement has put Office 365 in the list with some of the most popular services around. In fact, Office 365 has reached the milestone faster than some of the services which finds a mention in the list like Foursquare, Facebook, Dropbox, Spotify, and Hulu Plus.
Also, via an infographic Microsoft explained, except Instagram, Office 365 was the number one service in a ranking concerning the overall time needed to reach 1 million subscribers.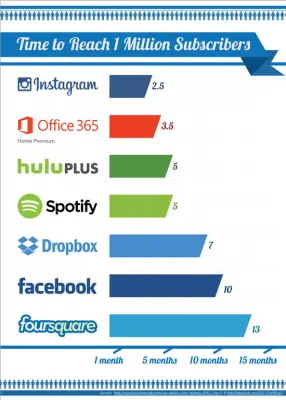 The success of Office 365 may have disappointed some of the Microsoft critics who had perceived the service failure even before its launch as the company was planning to push the subscription model aggressively then.
Here's what the Microsoft officials stated in a blog post,
Today, thanks to you, the new Office is officially the best-selling Office edition yet, with more than one sold every second on average since it launched.

And if that wasn't enough, in just over 100 days, you've made Office 365 Home Premium a hit with more than 1 million subscribers, putting it on pace with some of the most popular services around.

However, the numbers are only part of the story. At its core, Office exists to help people get things done, and people tell us they are choosing the service because it delivers full Office, it keeps them always up-to-date and it's a fantastic value.
Have you tried Office 365 yet?