Microsoft announced a new service called as Office 365 Video.  Office 365 video allow companies to have a private video portal, where they can browse, upload and share videos on mobile and desktop devices. Members across the organization enjoy the benefit of publishing and having access to videos published by others. The administrators can create different channels and publish video under them, hence Office 365 Video becomes like a YouTube for companies.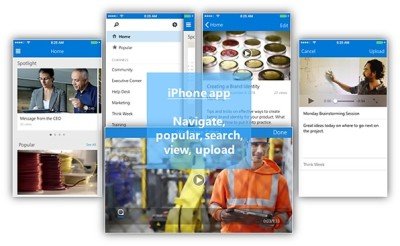 This new app from Microsoft is a novel concept as it eliminates the dependence that most organizations have for sharing video on the company's local intranet. Using Office 365 Video, employees can share induction programs, training modules, marketing tutorials and much more.
Once uploaded, the application creates different versions of the video suiting to different bandwidths.  Office 365 video also come with an HTML-5 player so users can play videos across different platforms.
Office 365 Video for iPhone
This is another important announcement that Microsoft made; the first Office 365 Video app was released into the App Store.
The Office 365 team mentioned on the blog,
"The power of video at your fingertips. The power to communicate more easily across your organization—be it executive messages, insights from the field, training and more—now with you on the go. Office 365 Video for iPhone makes searching for and playing your company videos extremely easy. You can even create a video on your iPhone, or take a raw video, and upload it directly into Office 365 Video to the channel of your choice".
Check you eligibility for Office 365 Video
Microsoft said that Office 365 Video has been included in the Office 365 versions E1, E3 and E4 subscription plans (and the corresponding A2, A3 and A4 plans for Academic customers) who have SharePoint Online. The Government plans are in the final planning stage and coming soon.  Office 365 Home, Personal or Student subscription currently do not support Office 365 video.
Microsoft is looking to add several other features in the service soon. A few of them are listed below:
Allowing users to select their own thumbnails
Providing the ability to embed videos outside of the portal
Allowing developers to use the public Video APIs
Making it easier to connect on-premises environments.