Office Mix, designed especially for teachers will now support Learning Tool Interoperability (LTI) on its platform. Along the side-lines, Microsoft also announced the company's addition to the IMS Global Learning Consortium as a Contributing Member.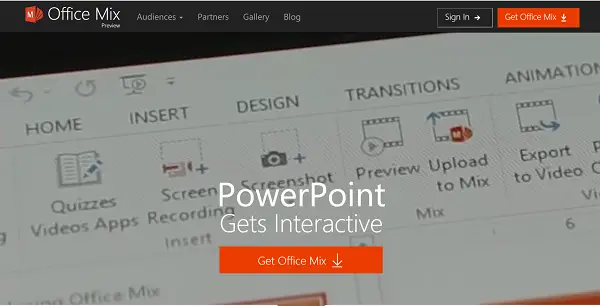 Office Mix Gets LTI Support
For users not known to Office Mix, It's an add-in for PowerPoint that lets authors easily share interactive online lessons. Teachers can easily add narration in audio and video formats with PowerPoint application. One can even add real-time drawing, screen recordings, etc within PowerPoint. All such PowerPoint lessons can then be viewed anywhere from any browser and on any device.
Through support of LTI, we have made it easy for educators to embed mixes into all major Learning Management Systems (LMSs), including Canvas, Engrade, Blackboard, Haiku, Moodle, Brightspace, EDUonGo and Schoology. Additionally, the LTI adoption enables McGraw-Hill Education (MHE) to utilize Office Mix to provide a custom teaching experience for adopters of the next generation of MHE products. Cengage Learning will be releasing an Introductory Computing MindTap pilot integrating Office Mix for fall 2015 classes, reads Office Blogs.
Once Office Mix is set up to work with an LMS via LTI, educators can simply embed interactive mixes, created by themselves, within their LMS as assignments or assessments. LTI also seamlessly authenticates students, and their grades are automatically passed back to the LMS grade book.
With all the changes introduced recently, it seems Microsoft is aiming to deliver a new wave of apps that are not only intuitive, intelligent but mobile- and cloud-friendly—and it starts with the Office Mix. To integrate Office Mix with an LMS, educators can follow the steps outlined in the EduAppCenter or go to mix.office.com/LTI to learn how to set up Office Mix within specific LMSs