Kim Spilker, the product manager at Microsoft has confirmed the availability of Katherine Murray's book, Microsoft Office Professional 2013 Plain & Simple. The book is now available for pre-order from Amazon  and other book sellers.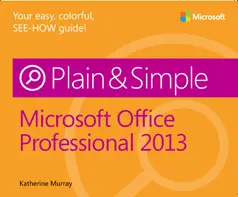 Katherine Murray, the author of Microsoft Office Professional 2013 Plain and Simple specializes in teaching people how to improve their productivity with Microsoft technologies. She already has more than 60 computer books to her credits of which more than 50 books related to Microsoft technologies.
The previous version – Microsoft Office 2010 Plain & Simple too was written by her. However, the newest version of Microsoft Office is much different. It makes the most of the color, movement, and Windows 8 integration. Hence, a guide to offer help!
Here is the short description for the most recent Microsoft Office Professional 2013 Plain & Simple book.
This full-color, no-nonsense book shows you the quickest ways to get things done with Office 2013. Follow the book's easy steps and screenshots and clear, concise language to learn the simplest ways to do your work with Microsoft Word, Excel, Outlook, PowerPoint, Access, Publisher, and OneNote .Kathy shows you how to navigate with mouse, keyboard, or touch; create documents, reports, databases, and presentations; share your desktop, worksheets, and files; manage your email and organize your calendar; stay connected with online meetings and instant messaging; and access your programs and your documents via the cloud.

Handy tips teach you new techniques and shortcuts.
The description of the book claims the information provided in it is factual, to the point, and clear. It shows you shows you how to get the most from Office 2013 and master the basics quickly, even if you are learning to use certain features for the first time. It is available for just $16.14.