Microsoft aims at providing it's users all the possible ways to edit documents online. After integration of Dropbox with Office Apps and allowing users to view and edit Dropbox documents, Microsoft has taken a step forward to include two more cloud services. As of now, this is available only for iOS Office apps and the two external cloud services integrated are iCloud and Box. Apart from adding two external cloud services to iOS Office apps, Microsoft has brought Office Online integration even. Through these two enhancements, Microsoft is looking for office integration with apps and services which are mostly used.
Integration of Cloud Storage with iOS Office Apps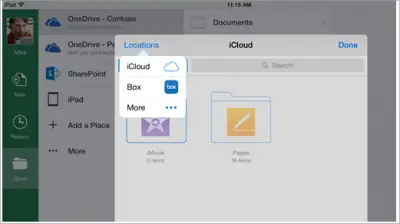 Third Party Cloud Storage providers can now be added to the "Locations" picker in iOS Office apps. This will allow view, edit and save the documents again in to the same cloud storage. As mentioned, this is available only for iPhone and iPad users and will be made available for Android and Windows users soon. So, you may not able to create new files but can view, edit and save existing files. It supports iCloud and Box cloud services as of now and more are yet to come.
Office Online Integration with other Cloud Services
It is possible to integrate Cloud Services with Office Online, within their applications. This allows users to open, view and edit documents in any web browser. You can view and edit documents present in their storage.
Microsoft announced that Box, Salesforce and Citrix are already part of this Cloud Storage Partner program and more services are expected to join.
These two announcements will allow users to view and edit documents from anywhere and whatever cloud service they might be using. This gives users a good experience of opening Office in new ways.