If you have been using Microsoft Office on Windows 7, you must know how long your version of Office and its products will be supported on Windows 7. The End Of Support for Windows 7 is on January 15, 2020. While most of the software developers will gradually stop rolling out updates and fixes, Microsoft Office users seem to be in luck.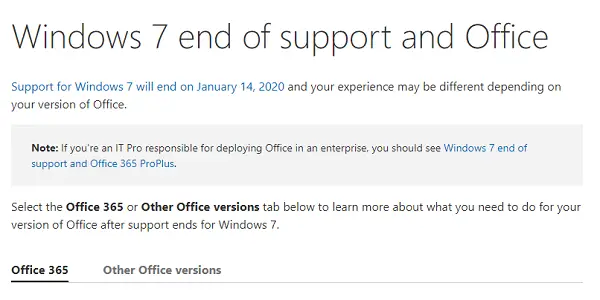 Microsoft Office will be supported on Windows 7 till January 2023
Windows 7 users should be happy because of the advantages coming from the Extended Security Updates subscription. Even if you do not pay, you will keep receiving malware signature updates for Microsoft Security Essentials. The same applies to Office products.
Microsoft Office 365 & Other Office Products
Office 365 users will keep getting security updates and fixes for the next three years, i.e., until January 2023. The company wants to help users to make the transition to Windows 10 or any other OS. However, the software will not receive any new features updates.
The rest of the products will get support until the end of their life cycle.
Office 2010: 13/10/2020
Office 2013: 14/04/2015 (Extended Support End Date)
Office 2016: 13/10/2020
Office 2019: 10/10/2023
While they also have Extended Support End Date, which spans till 2025, by that time, Microsoft will end the paid subscription support for Windows 7.
If your product is not listed here, please check the official page. There you can search for your product and check the end of life year.

That said, if you face an issue because the OS is not secure, i.e., the problem is a result of the combination of Office and an unsupported operating system. Microsoft will offer no support. It is the primary reason most of the Office software will not receive any new feature update, but only bug fixes and security patches.
If you are planning to use Microsoft Office on Windows 7, make sure you secure the Windows 7 operating system and connect to the internet when required. If you copy Office documents from another computer via USB, make sure to scan on the source and the destination computer.