Microsoft's first flagship retail store is now open the New York City. The grand opening was done yesterday on October 26, 2015. The MS Store located at 677, 5th Avenue is just a few blocks away from the Apple's store in the city. It is reportedly the largest of 110 Microsoft retail stores worldwide having more than one floor.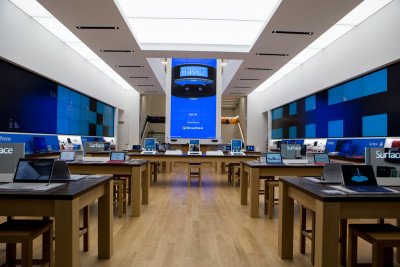 "One of our goals, since we started the stores in 2009, was to have a real marquee location where we could bring an expanded retail presence," said Kelly Soligon, general manager, Worldwide Marketing, Microsoft Retail and Online Stores.
With a grand 22,269 square feet building sporting five floors and a grand glass façade, this flagship MS Store is talk of the town currently. The five floors are connected with stairs and a magnificent glass elevator. While first three floors are open for public, the top two floors are kept for the staff use.
There is also a community theatre in the Microsoft store for training sessions and seminars with a capacity of 60 people. For all your queries, the store has many Answer Desks. The team at this flagship store can speak a total of 19 languages, including Spanish, Hindi, Mandarin, Arabic and Russian, to help customers from New York and around the world.
The other attractions of the store include a Culture Wall which showcases the local landmarks of New York City. This front facing Cultural Wall won't be serving any ads, says Microsoft.
The store has a trail of Microsoft gadgets and device spread all around including the fantastic Surface Pro 4s, newly launched Lumia phones, Xboxes, Surface Books and more. The flagship store will be featuring both Microsoft branded devices as well as the devices from its PC partners. HoloLens, one of the most talked-about devices of Microsoft will also be featured in the newest store in NY.