Microsoft today announced its partnership with Oracle allowing the customers to run Oracle software on Windows Server Hyper-V and in Windows Azure. Keeping their  differences aside, both software companies have settled to work together and "add properly licensed and fully supported Java into Windows Azure." The deal covers both public cloud and private cloud along with many new options.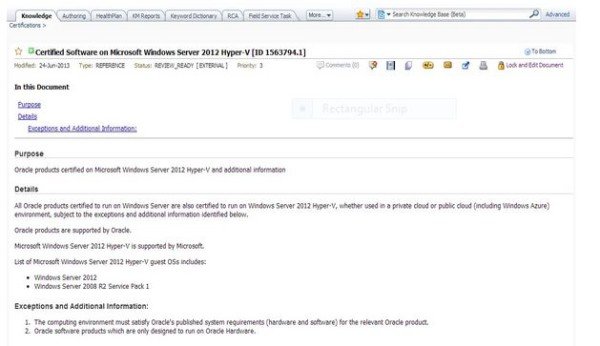 The full terms of deal are not yet disclosed but its key elements include:
Oracle now allows its customers to run its software (Java, Oracle Database and Oracle WebLogic Server) on Windows Azure and Windows Server Hyper-V
Oracle customers can now run their Oracle software in Windows Azure "with new license mobility."
Microsoft offers fully supported and licensed Java in Windows Azure.
Oracle will now offer its open-source operating software Oracle Linux preconfigured on Windows Azure.
Microsoft will make Oracle Database, Java, and WebLogic Server software available for its Windows Azure customers
Talking about this partnership Microsoft CEO Steve Ballmer said, "Now our customers will be able to take advantage of the flexibility our unique hybrid cloud solutions offer for their Oracle applications, middleware and databases, just like they have been able to do on Windows Server for years."
Mark Hurd Oracle President agreed to Ballmer's statement saying, "I think it just makes sense for us to continue to improve our own capabilities but also allow customers to leverage both of our capabilities together, I think this makes a lot of sense for both of us…because it makes a lot of sense for our customers.
This new partnership of Microsoft and Oracle will help customers embrace cloud computing by offering them greater flexibility and choice in how to use their Oracle software.