Microsoft wants to simplify how you find what you need in Outlook. The company is rolling out the ability to search using natural, everyday language in Outlook for Android and iOS. Meaning, you can search for your emails, calendar events, and contact information in the Outlook app using natural, colloquial language that you use in your everyday conversations.
Outlook rolling out Natural Language Searching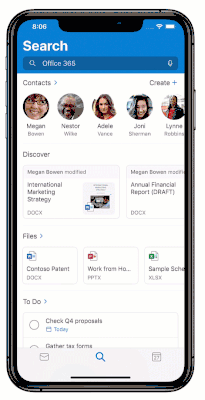 This feature applies to both speaking and typing your search queries. It further eliminates the need for typing or speaking machine-centric search queries that rarely return desired results. According to Microsoft, it works well especially when users are using filtering terms like "last week", "next appointment", or "phone number", hoping to easily get the results that you are looking for.
Announcing the update, Microsoft wrote:
"Once you start to speak, Outlook captures what you say on screen and initiates the search based on your question. You can expect to see this experience start to roll out at the beginning of April for Microsoft 365 customers, both consumers and business users, in the United States."
With the introduction of natural language searching, Microsoft is adding two new elements in the Search home screen: A microphone icon in the search box and a small card appears at the bottom of your screen. Once you tap on the mic icon in the search bar, a small card appears suggesting the set of questions you can ask, the ones that may be relevant to you.
Searching for contact numbers and calendar events using natural language in the Outlook app for Android and iOS has become easier. You can simply search using everyday terms such as "when is my next meeting with Anand next week". Microsoft Search in Outlook will then figure your contacts with the name Anand, find scheduled event on your calendar that matches the time frame for next week and deliver results accordingly.
Finding contact numbers is now a piece of cake for Outlook for Android and iOS users. You can search using everyday terms such as "What's Anand's phone number?" Then, Outlook will provide you with the contact card that you are looking for.
Following are the types of questions you can ask or write in the Outlook search box:
You can ask for people's contact information including phone numbers, emails, and office location.
You can ask for events or meetings by name, time or attendees.
You can ask when is your next meeting or to join a meeting that is in progress.
Microsoft is keeping the ability to search using natural language limited to the U.S. Hence, you need an Office 365, Exchange Online, or Outlook.com account. Make sure that the device settings are set to English in the United States.