Microsoft has announced massive changes to its Certified Solutions Expert (MCSE) and Developer (MCSD) certifications. The overhaul effectively eliminates the need to retake certain exams for some Microsoft Certified Solutions Expert (MCSE) and Developer (MCSD) certifications.
Realigning its offering, the company released five new expert certifications (as shown in the below image), of which four are MCSE, and the fifth, MCSD. Microsoft said that the realignment and new releases are aligned to the philosophy of Centers of Excellence, used by the Microsoft Partner Network to identify technical competencies that are widely recognizable by both Microsoft partners and customers.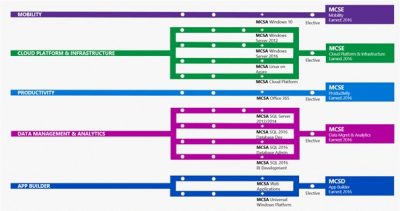 The five new expert certifications are:
MCSE: Cloud Platform and Infrastructure – focusing on skills validation for Windows Server and Microsoft Azure
MCSE: Mobility – focusing on skills validation for Windows Client and Enterprise Mobility Suite
MCSE: Data Management and Analysis – focusing on skills validation for both on-premises and cloud-based Microsoft data products and services
MCSE: Productivity – focusing on skills validation for Office 365, SharePoint, Exchange, and Skype for Business
MCSD: App Builder – focusing on skills validation for Web and Mobile app development
Currently, Microsoft's certifications are valid for 2-3 years, after which re-certification with new exams becomes mandatory to keep the certification valid. However, now, the re-certification criteria is scrapped and each of the expert-level certification includes an elective, where taking a new elective renews the credential for another year.
Larry Kaye, Senior Business Strategy Manager for Microsoft Learning, mentioned on the borntolearn blog,
"To earn each of these credentials, you must first earn a qualifying Microsoft Certified Solutions Associate (MCSA) certification and, then, pass a single additional exam from a list of electives associated with the corresponding Center of Excellence.  The resulting MCSE or MCSD certification will be added to your transcript and will never expire.  Instead, the achievement date will signify your investment in continuing education on the technology.  Every year, you will have the opportunity to re-earn the certification by passing an additional exam from the list of electives".
The renewed Certification program comes into effect from April 01, 2017, while on the previous day, All MCSE and MCSD certifications released prior to September 2016 will be retired. This effectively means that for students who are currently preparing for any certification due to retire on 31st March, 2017 must hurry up to complete that credential.
For those who currently hold a MCSD or MCSE, they will earn a corresponding new credential for 2016 without having to take any additional exams. As Microsoft says, those with inactive MCSE or MCSD can either take a re-certification exam or a new elective exam associated with the corresponding Center of Excellence to earn a new certification.
MCSE: Server Infrastructure
Finally, all existing MCSE and MCSD certifications (as listed below) will be retired on March 31, 2017. For those who have already attained them, the certifications will remain on their transcript in either Active or Inactive state until retirement of the corresponding technologies, at which point the certifications will be moved to the Legacy section of your transcript.
MCSE: Private Cloud
MCSE: Server Infrastructure
MCSE: Data Platform
MCSE: Business Intelligence
MCSE: Enterprise Devices and Apps
MCSE: SharePoint
MCSE: Communication
MCSE: Messaging
MCSD: Application Lifecycle Management
MCSD: Universal Windows Platform
MCSD: Azure Solutions Architect
MCSD: Web Applications
MCSD: SharePoint Applications
Click here to read full blog post for more details.