Enhancing its partnership furthermore with Bitdefender and other leading security companies like Lookout, and Ziften, Microsoft is planning to create an ecosystem for Windows Defender ATP capable of detecting threats across different platforms (Mac, Linux, Android, etc). The new capability will enable Windows Defender ATP to provide security teams a single pane of glass for their endpoint security.
Windows Defender ATP extended across platforms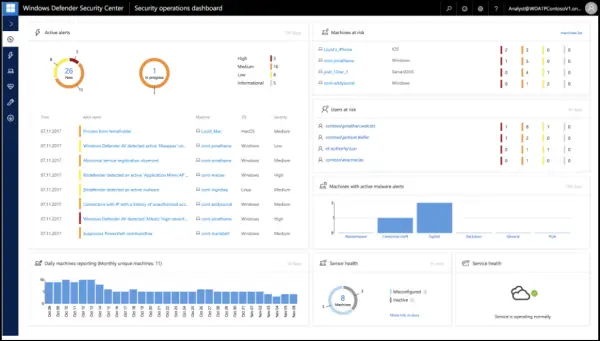 For long, Microsoft has been working closely with its partners to ensure their solutions integrate well with Windows Defender ATP, without the requirement of any additional infrastructure, Once achieved, security teams will have a robust framework and better ways to detect, investigate and respond to cyber-attacks and breaches on their networks.
New classes of capabilities and innovative protection features added to Windows Defender ATP
Bitdefender's GravityZone Cloud
It is a cloud-based malware protection service developed by Bitdefender for computers running Microsoft Windows and Macintosh operating systems. It enables customers to have a comprehensive of threat intelligence information on malware or suspicious files and other relevant details. It also combines all the security services organizations need into a single delivery platform to reduce organization's cost of building a trusted environment for all endpoints.
Lookout Mobile Endpoint Security
It is an enterprise security solution from Lookout, the global leader in securing mobility. It offers a complete risk management for mobile devices by providing real-time visibility into incidents on mobile devices and effectively mitigates false positives while detecting high impact threats.
Ziften's Zenith systems and security operations platform
Ziften's Zenith integration with Windows Defender ATP will enable customers to detect, view, investigate, and respond to advanced cyber-attacks on Windows, as well as MacOS, and Linux-based endpoints directly within the Microsoft WDATP Management Console. It will also help customers to detect attacks and zero-day exploits, to uncover the full scope of a breach, and to quickly respond to contain attacks.
Such a comprehensive network of securities will strengthen the overall security stance of Microsoft to provide protection against attackers who continue to move quickly, waiting for an opportunity to make advancements. Joint efforts from Microsoft such as this for providing an integrated experience and technology are therefore welcome.