As we all should know by now, the Xbox Series and Xbox One video game systems contain a feature that allows players to record and share clips on Xbox Live. Unfortunately, whatever you've shared is only viewed by those on Xbox Live, but what if it is possible to draw the attention of a broader audience? This is where Medal.tv comes into play. You see Microsoft has partnered with this service to deliver an all-new audience for Xbox gamers. Now when you share your recorded clips, they will make their way to Medals.tv as well, so you will want to upload your best.
Microsoft partners with Medal.tv to bring Xbox clips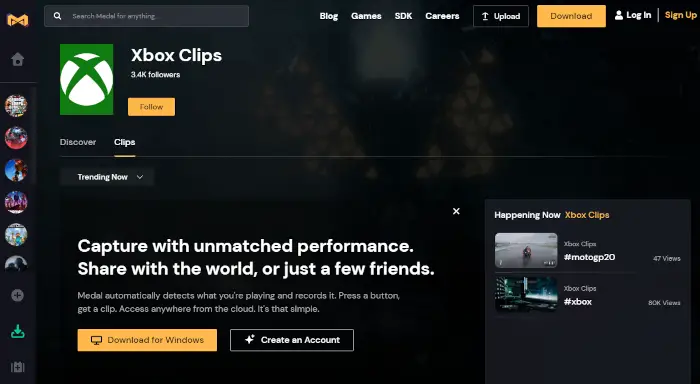 Before you can do this, you'll be asked to synchronize your Medal.tv account with Xbox Live. From there, you can share any number of videos to the platform for all to see.
Now, we should point out that this feature is not only available for Xbox but also Xbox on the Windows 11 PC.
"Medal is more than just a place to share your clips to your favorite sites, it's an established community of millions of gamers who live, breathe and eat gaming content. When you're sharing clips on Medal, you're sharing your clips to our amazingly active community who will see and interact with your content on Medal by upvoting, commenting, and reacting. On Medal, your content has the potential to be seen by the world — and go viral," according to a post from Medal.tv.
One interesting feature of Medal.tv that we've come to enjoy, is the ability to edit videos via the cloud. The company states there is no longer a need for expensive video editing hardware, though we believe that's an overstatement to sell the cloud editing feature of the platform.