Nothing stops Microsoft coming up with great products! Of late, the company has released a new benchmark to demonstrate the power of its proprietary browser – Internet Explorer 10. The benchmarking tool named as Penguin Mark tests internet browsers using a variety of technologies such as HTML5, JavaScript, CSS3, Canvas, and more.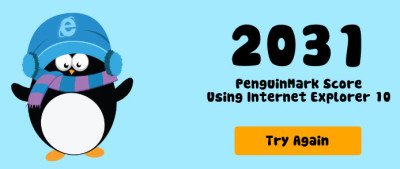 No wonder, the test crowns Internet Explorer 10 as the winner. Of course, Internet Explorer 10 is fast, fluid and built especially for touch browsing. It adds support for a broad range of developer capabilities, including new touch APIs, performance, HTML5, CSS3, JavaScript, and more. And the Penguin Mark test just exhibit that. The test demonstrates IE10 is better than its rivals.
Penguin Mark
The browser performance benchmark is compatible with a wide range of browsers such as IE10, Firefox, Chrome, Safari and Opera. All you need to do is to load this page in your browser and click the start button. Once done, the penguins will start singing and at the end display the score for your browser. The faster your browser, the higher your Penguin Mark score goes.
"This experience brings together hardware-accelerated HTML5 capabilities like canvas, CSS3 animations and transitions, audio, WOFF, power and performance APIs, and more. Be sure to turn your volume up for maximum entertainment," Rob Mauceri, Group Program Manager, Internet Explorer, said.
Here are the test results for the latest versions of the other browsers. My Opera froze half-way through the test at the score of 21..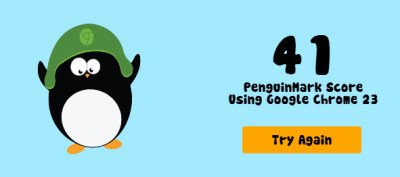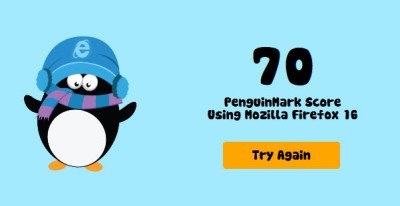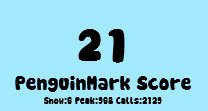 Ever since the first version of Internet Explorer 10 got to see daylight, Microsoft has been promoting it, claiming it to be the fastest browser on the planet – and this test just goes on to confirm their claim..
Try the Penguin Mark test with your favorite browsers and let us know if it performs better than your Internet Explorer 10.