With their focus on providing cross-platform services, Microsoft recently released a photo app Microsoft Pix for iOS users. If you are a lens lover, this app will certainly get you drooled over. Microsoft Pix is a feature rich app which helps you have more fun with your photos. Unlike other apps from Microsoft, this is an invite-only app and you need to submit your phone number to get the download link of Microsoft Pix.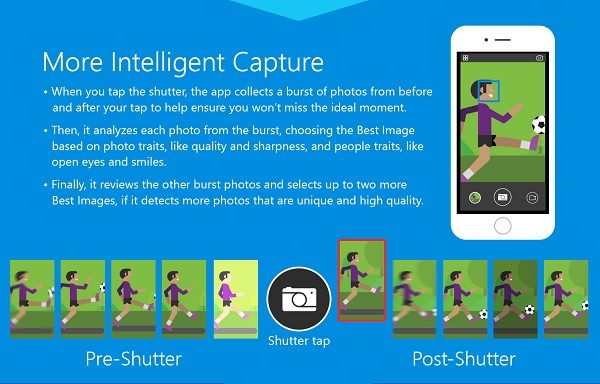 Microsoft Pix for iOS
With its advanced features and excellent tweak settings, the app makes you a professional photographer. Smart Capture is one of the most notable features of the app which keeps online looking for best shots and captures it even before you hit the click button. Other interesting features of this new app from Microsoft include-
Smart settings- Adjusts the light settings according to the scene.
Face recognition- Detects a face automatically and optimizes capture settings.
Best moment- captures many different frames before and after the tap.
Best Images- Saves best images and deletes the rest.
Image Auto-Enhance- Improves color and exposure and reduces noise and blur.
Live Image- Automatically loops the frames to make a looping video.
Hyperlapse- You can stabilize and add time lapse to your videos.
Auto-sync- Syncs to your camera roll seamlessly.
Easy sharing- Lets you share the picture using iOS Sharing
The new and intelligent camera app from Microsoft is available for free download via iStore but you first need to submit your mobile number to get the download link. Download the app and take wonderful pictures without any extra efforts.