Ever since its release, the Microsoft Planner has been helping users get organized quickly, work together and also collaborate with each other in a seamless way. Microsoft has now decided to better the Planner offering and has thus introduced four new planner features. With the update, users will be able to have greater visibility of the project and will also get notifications of the upcoming deadlines. Let us take a closer look at the new Microsoft Planner Features.
Microsoft Planner Schedule View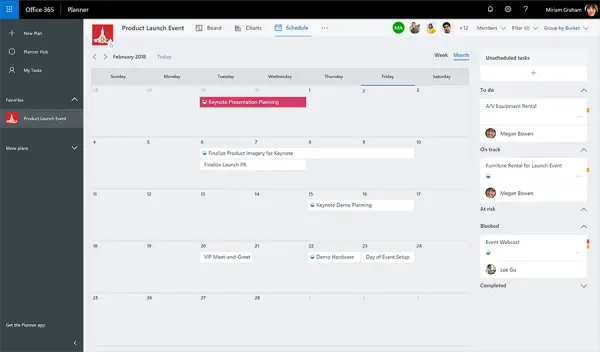 As we said earlier, the Schedule View offers a greater insight into the project status along with the ability to view your task schedule. One can also drag-and-drop scheduling across both weekly and monthly task views. In a nutshell, the Schedule View option helps users to manage their tasks in a much better way and also be well informed about the impending deadline.
Groups and Filter options
While Schedule View is to help you understand the progress of your tasks the Group and filter view is aimed at helping users meet their deadlines. Users can also filter the tasks by due date and thus understand the deadline and chart their path accordingly. Meanwhile, the group feature helps users in viewing the tasks that have not been started thus allowing users to prioritize the work.
Due date notifications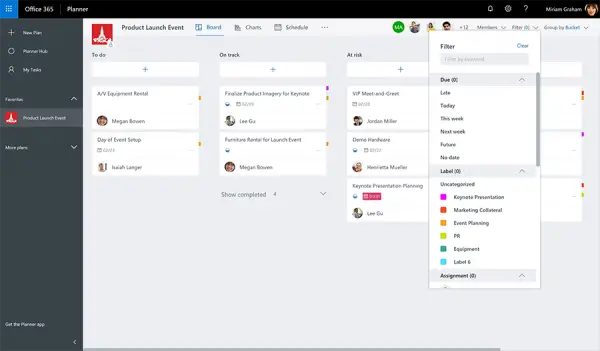 Microsoft Planner will now send an email notification that summarises the tasks that are due in the week and helps you plan work schedules accordingly. Notification will also keep you informed.
iCalendar format feed (upcoming feature)
The iCalendar feature will help in better scheduling and time-management. All of this is done by pushing your tasks to the Outlook calendar. With this feature in place, it is very unlikely that you will lose sight of the task and this will help you achieve deliverables more efficiently.
All of the new features have been suggested by Microsoft Planner users on the Planner UserVoice forum. As of now the Group and Filter, and Due date notifications are available for all Office 365 subscribers while the iCalender feature will be rolled out soon. You can read more on office.com/