Microsoft Pluton is a new security chip for Windows computers. Microsoft has come to terms with AMD, Intel, and Qualcomm to announce Pluton, a new processor that features Xbox-like security standards for Windows PCs. Microsoft Pluton uses the same security technology as Xbox and Azure Sphere. As a result, Microsoft hopes to safeguard Windows computers against hardware-level threats.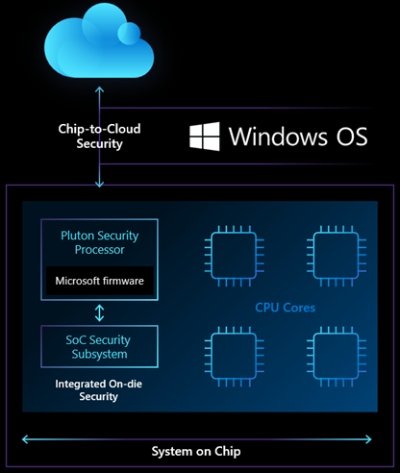 Microsoft Pluton to protect Windows PCs
"Our vision for the future of Windows PCs is security at the very core, built into the CPU, where hardware and software are tightly integrated in a unified approach designed to eliminate entire vectors of attack," said David Weston, Director of Enterprise and OS Security at Microsoft.
According to Microsoft, Pluton will make it difficult for attackers to hide beneath the operating system. The company also hopes to prevent physical attacks, including credential encryption keys theft, and help Windows computers recover from software bugs.
The Trusted Platform Module (TPM) plays a significant role in ensuring the operating system's security on most PCs. It also helps computers securely store encryption keys. TPMs exist in Windows for more than a decade, powering Windows Hello and BitLocker.
What is it that Microsoft Pluton is trying to fix?
These days, hackers find ways to attack the TPM, mostly to steal or temporarily gain physical access to a Windows PC. Attackers usually target the bus interface, a communication channel between the CPU and TPM, something Microsoft Pluton now wants to fix.
"The Pluton design removes the potential for that communication channel to be attacked by building security directly into the CPU," Weston added.
Windows computers with pluton will emulate the existing TPM specifications and APIs so that features like BitLocker and System Guard can immediately benefit from the underlying security enhancements.
Microsoft Pluton can protect credentials, user identities, encryption keys, and personal data on Windows devices even if an attacker uses malware or has complete physical access to the PC, courtesy of the unique Secure Hardware Cryptography Key (SHACK) technology.
Keeping the system firmware up to date
Like how the Azure Sphere Security Service connects to IoT devices, Microsoft will integrate Pluton with the Windows Update process. To know more about Microsoft Pluton, read the official company blog post.