At its annual Ignite conference this week in Atlanta, GA, Microsoft announced several new cloud-enabled intelligent services for Office 365 that empower users to create more than just a professional Office content within no time.
The new updates are built on leveraging the capabilities the AI, and allows an average user to create visually appealing content, that was earlier only a designer's forte. Moreover content, that earlier could have taken weeks to complete can now be produced within minutes.
Below is a brief overview of the new additions.
Word and Outlook now has a new "Tap feature" that uses Microsoft Graph to find and use relevant content from within your organization while you are working on a Word document or an email in Outlook. Tap showcase you documents, presentations and spreadsheets that you can use in your current content without leaving the application.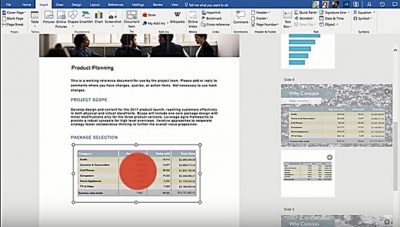 As of now Tap is available to Office 365 Enterprise E3 and E5 customers and Microsoft says that it is working on bringing the feature to PowerPoint and other apps.
For all the business users, if you ever struggled to make professional looking presentations, Microsoft has just made things easy. Powered by the Bing Knowledge Graph, Quickstarter for PowerPoint and Sway, now allows a faster way to integrate text and images into your presentations. Just enter a topic in your blank canvas and Quickstarter will suggest you designs for your blank canvas. The feature is already available in Sway on the web and is coming to other platforms by the end of 2016.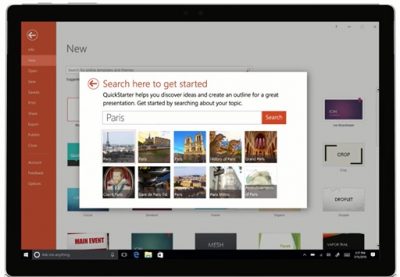 There is much more that you can do with bulleted lists in PowerPoint now. "Designer support" in PowerPoint can now recommend professional design options for bulleted process lists. The feature is already available on Windows desktops users and for Office 365 subscribers in the Office Insider program.
Here is something for Excel users too. Excel gets a Bing Maps feature update to generate geographic data visualizations in just a few steps. The feature is coming to the Windows desktop, Windows Mobile and Android versions of the app by this year end.
Microsoft has renamed Delve Analytics, the work-life balance enhancing Office 365 add-on, to MyAnalytics and made it available to Office 365 users. MyAnalytics provides insights to business users on how they spend their time at work, across meetings, email, and other activities. MyAnalytics assist in setting up productivity goals and monitor progress over time.
AI enhancements to security and compliance
Microsoft announced improvements to Advanced Threat Protection (ATP), including the ability to scan attachments for potential malware without slowing down the email delivery. The company plans to bring Advanced Threat Protection to the SharePoint Online and the Office desktop applications by this year end.
For Office 365 users there is a new Threat Intelligence capability that proactively uncover and protect against advanced threats in Office 365. It makes use of deep insights from Microsoft's global presence, the Intelligent Security Graph, and input from cyber threat hunters.
To guard against unwarranted use of Organization's data, Microsoft introduced "Advanced Data Governance in Office 365" helping businesses keep a tighter lid on sensitive information. The feature is expected to roll out by the end of 2016.
Above AI powered are sure to take off some burden off from the specialists like designers and other domain experts, Microsoft says that it doesn't believe that AI technologies will replace humans but instead empower them. For now, let see if the company has more such features coming in the future too.
Visit Office blog here to read more on the above features.