When technology moves forward by leaps and bounds miracles happen. Well, this is not a miracle, but certainly a brilliant example of what technology can do. Skype Translator is here and making stir in the world of technology! Didn't get the story yet? Read along.
Skype, the popular video chat and video calling software owned by Microsoft, has now brought the most awaited 'Skype Translator'. The preview of the software was released recently. Though, currently, only two spoken languages are available with Skype (namely English and Spanish); it is donned with 40+ instant messaging languages.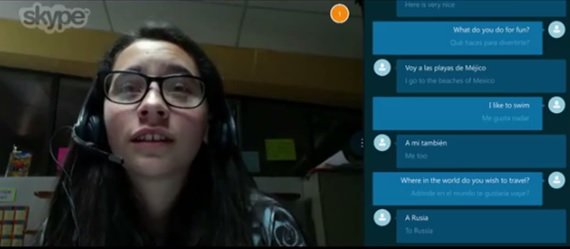 Few quick pointers about Skype Translator
The software has two spoken languages, English and Spanish
There are 40+ languages available for instant messaging
Users having Windows 8.1 on their desktop or handheld devices can make use of Skype translator
Users need to sign-up via Skype Translator sign-up page
Skype proudly presents Skype Translator to the world,
"Skype brings people together to make progress on what matters to them. Skype Translator will open up endless possibilities for people around the world to connect, communicate and collaborate; people will no longer be hindered by geography and language."
How Skype Translator works
Skype Translator is the most recent evolution of Microsoft's speech recognition technology. This software is based on robust Machine Learning platform. It learns from its previous data. Since it captures even the smallest of nuances during its learning, it has a better ability to recognize and translate the language variations, various accents and topics of the users.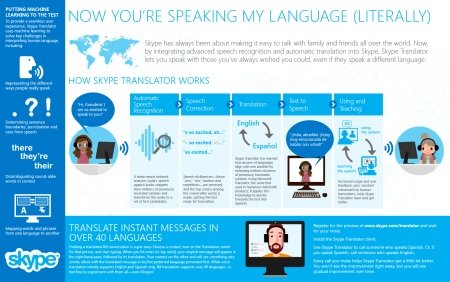 Skype mentions,
"While this moment is a major milestone for our team, we see the preview as simply another step in creating the best translation experience we possibly can. We will rely on the feedback and data that our preview users share with us to help improve our technology and optimize the unique experience Skype Translator creates. It's still early days for this technology, and although we have a solid foundation, we know that in some respects our work has just begun."
Skype Translator is a future technology; but it certainly  has its own set of challenges. It will be an interesting journey though! Read more about this at the official blog post.